a bit of a miscellany today…. I was pleased to hear that Wendy Houvenaghel has taken the womens record for a 10 mile TT, clocking 19m 50s… pleased for her and pleased for me because I can feel OK about receiving a thrashing at her hands (in a cycling sense, it's too early for anything else) back in the summer (here). It also means she's on cracking form for the World Champs next weekend, a medal would be fantastic.
On the other hand I was disappointed to read that Lance Armstrong is suing another charity for producing some yellow wristbands (full story). Never liked the guy, (but not to detract from his athletic and charitable achievements) his vindictive nature is pretty widely known but this is kind of sad. Charity lives eh?
OK, serious stuff over, what about this then for your next cycle tour…. ideal perhaps for a spin through Transylvania, I can't help thinking that Dracula would appreciate this for his bicycle touring adventures, all it needs is some nice polished handles on the side (clicky picture for link). I'll be sticking with my Extrawheel I think.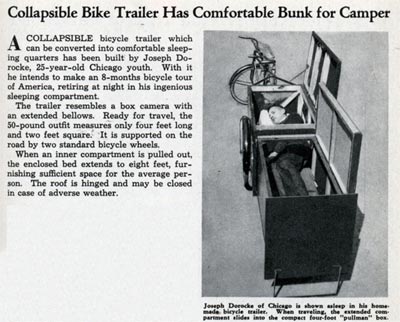 There's some funky stuff over on that site, much of it laughable in conception, personal favourite…? This. Quite silly.
If you're a regular you might remember I'm supposed to be riding a hill-climb comp this morning…. so what am I doing mucking about in here then.. well, small matter of an unexpected (well, aren't they all) eczema flare last night that's left me with corned beef feet, legs and arms kind of killed off motivation there. My only consolation I suppose is that the weather is minging. Instead I shall fit the mudguards to my winter bike ready for the dark and damp months ahead :o(. Still, have had some good riding this week to finish the summer off, very much with a theme of cafe stops – I'll have to stop that else I'll be putting on a few lbs… having said that a couple of months on my bike in Colombia and Ecuador come the end of the year will fix that pdq.
Cheerio for now, have a nice Sunday…