Hey, hope you had a good time over Christmas…. mine was the usual riot of fun and games only tempered by an unexpectedly bad reaction to the Yellow Fever & Rabies jabs I had on the Friday before… c'est la vie. I did however get on the bike over Christmas and Boxing day with a mate for a couple of hours. The weather was fabulous so it was great to get out on the cliffs for a few hours in the afternoon on the 25th before the evening riot… you see I'm blessed with a small but completely bonkers family so the evening is always a crazy affair. This year didn't disappoint… I have plenty of pictures but I couldn't possibly put them in the public domain…… and you ain't seeing any of me either… at least not the compromising ones :o)
there's a dinner table under there somewhere..
the view over Vault Beach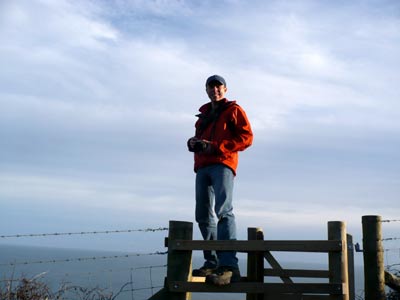 yours truly…
It's only 4 days now before I go away so I really do need to knuckle down and get my gear sorted and packed… not to mention packing the bike. The 'toy' room is just a random mess of camping gear, clothing and bike spares that I just need to put in some sort of order…. Right now my only real dilemma is what tent to take. I don't plan on camping all the time so I could manage with my tiny North Face Mountain Marathon… but on the other hand it might make sense to carry the extra kg or so and take my Mountain Equipment Dragonfly which would allow me to keep my gear in the tent with me overnight – but being larger is harder to 'hide' out of sight…. decisions….! Everthing else is easy, I've done this so many times I can pack in my sleep.