I'm wondering how to start this post without sounding too pleased… oh sod it, I am pretty happy today, with a new PB I'm really beginning to see some form in my legs now… (just as well with the Plymouth 50 coming up soon, tho still 2 months to the Welsh 100…). This morning was Truro CC's Open 25 up on the S100/25 course… yeah, the one with the horrible climb to the turn… 2 laps of it as well and a downhill finish… so not really ideal terrain for a fixed gear but I do enjoy the satisfaction of doing well on a fixed… and today I was well happy with my "long 55" (OK, very long at 55:57 but hey…!). I was on my Condor as usual with the 100-inch gear that seems to work so well for the majority of Cornish courses (except the really hilly ones like the Lizard). With a freshening north-westerly breeze blowing across the course the return leg of the primary lap from Indian Queens to Victoria felt especially tough, difficult to keep the bike above 39-40km/hr on this bit. I must say though when it is hard like that the fixed seems to work really well, even though I'm pushing a gear bigger than would be considered sensible at such low speeds the need to just keep rolling it around smoothly means I'm generally quicker than most on those sections…. but then I have to ease up on the flatter bits for a while to get some recovery in my legs. Where I really lose it though is on the downhill sections. Today that was the 2x descents from the turn at Indian Queens and a very fast downhill finish. Ho hum. It was fun though. I'd love to try the Condor on a properly flat course one day, stick a 13 or 14 on the back with the 55 ring and wind it up.
It's when I start to go well I begin to wonder if a rear disc on that bike would make much difference to my speed… The Hed 90 is pretty deep and I like the light feel it gives to the bike when accelerating…. have to say though, my primary motivation for running the rear wheel that I do is that I always wanted an excuse to own a beautifully polished Royce Titanium track hub…. such a tart ;o) Having confessed to being a tart then it'll be no surprise to know that I do also enjoy the attention the Condor gets while parked outside the HQ. It's slowly gaining a fan club of it's own. Folks comments are interesting too, the consensus seems to be that a fixed gear is too hard and they'd miss their gears, but the reality I've experienced is that you don't even think about that when riding. With no gears to choose the decision making is taken away and all you can do is press the pedals as hard as you can… sustainably. It's interesting to be called "an animal" however, expecially for this scrawny devil that used to be so shite at schools sports… in my early teens I was asthmatic, uncool, overweight and intelligent (ahem…. :o)… not a good recipe for happy school days… Note however, I'm not claiming to be "cool" now either… but I like to think I do OK, ha-ha!
Karl Hodson (Trigon) won the event with a super 54:00, Stuart Hall (Alltrax) and Paul Friday (PZW) took 2nd and 3rd respectively with 54:34 and 55:20. Must admit, I am rather envious of Pauls new Cervelo P3C… (and while I'm at it.. Phil Walker's Isaac Aerotic is a lovely piece of carbon sculpture too). We (as in the Cyclelogic trio of Martin, myself and Chris Lobb) took the team prize. Martin was little slower than I expected with 55:42, he's been racing an awful lot though so I think his upcoming holiday will restore some speed. Chris Lobb is turning in some cracking performances for his first season of races… wish I was 18 again, that age when you can race every day, drink every night and still recover… somehow… or if you're Chris surf in the afternoons after racing as well….
so there you go. A nice sunny Sunday morning, and an afternoon spent lounging by the sea at home.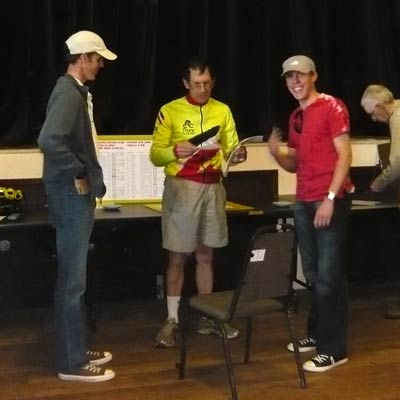 that's me (in the red shirt) and Martin (on the left) by the way…
Next weekend I'm just riding a 10 on the Saturday afternoon, I'm looking forward to a long day out on the bike on Sunday – I could do with getting some longer miles in before the Tour of the Black Mountains and so on.