*** an update to my words below now the stove has some serious miles on it. I used it almost continuously for roughly 8 months in the Andes. It survived many thousands of kilometres of bouncing around in my panniers on my bike on some very rough roads and never missed a beat. I like this stove more than my old Dragonfly. The construction feels more robust and the pump especially, being metal, I like very much. It is easily as controllable as the Dragonfly but is much quieter, the old Dragonfly sounded something like a 747 at take-off thrust. I ran it almost exclusively on unleaded petrol but using alcohol (cheap from pharmacies all over Latin America) for priming – this avoids the problems of soot clogging the jet. On occasion I also ran it on 'benzina blanca' – a more refined petroleum product sold for cleaning purposes.. but more expensive. I had a few spares with me but didn't need them, the stove appears as good as the day it was new.. albeit somewhat grubbier. Highly recommended. ***
hey, continuing the theme of "I can't wait for another adventure" I've got a new camping stove to show you. OK, not very exciting but I've been sick this week and unable to ride/race so I've had to find some sort of inspiration…. My previous expedition stove was an MSR Dragonfly multi-fuel stove – it burned pretty much any liquid fuel and did it well though I only ever ran it on white gas, unleaded petrol and on one occasion paraffin). It served me very well for 12 years until I sold it in Ecuador back in January. It wasn't perfect – the pump design was compromised by a weak point (but fixed in later models) and at one point the burner became detached from the spindle/fuel pipe but MSR fitted a new one for free within a couple of days (after 8 years of use which says a lot for their customer service!). This week I replaced it with a Primus Omnifuel.. the successor to the Himalaya Multifuel.. this thing really does burn anything – liquid fuel as well as gas cartridges which is pretty handy. It comes with 3 different jets and a tool to swap them around depending on fuel type. I've only given it a test firing so far on white gas but I'm really impressed… dead easy to light and appears to be very powerful. I've no idea what the official heat output figures are, don't really care – it looks 'right' The build quality is nice, it feels a much less fragile design than the Dragonfly and the best bit is that the pump is metal rather than plastic so should be nice and reliable on a long journey….. also handy is that the fuel bottle fitting is common with MSR bottles as I have a couple of those in different sizes kicking around here already.
I'll report back as soon as it gets some solid outdoor use but based on the reviews I've seen I doubt I'll be disappointed. Worth considering if you are in the market for a stove for overseas adventures… Here's a pic of mine…

which is a bit of a shit pic so here's a 'library' photo as well… ;o)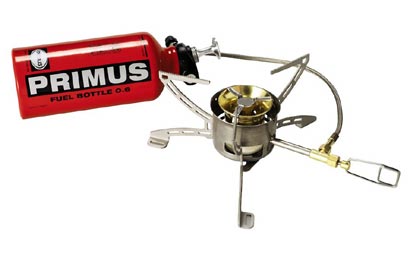 Mine came from Outback Trading in Helston (top folk.. heck, they're friends of mine so free plug is very much in order ;o) and came with fuel bottle, tools, solid feeling storage bags and a windshield.