The 5th North American Handmade Bicycle Show has just wrapped over in Indianapolis…. it's brilliant to see such fabulous creativity and artistic talent realised in pedal-powered form. I don't know what it is about North America that is fuelling the growth in "boutique" frame building (perhaps it's just a case of bigger population = more cyclists with the $$ and inclination to spend it) but whatever it is I'd love to see the same over on this side of the Atlantic. The UK has a rich heritage in frame building but it's all gone a bit quiet and run of the mill… for sure there are a few guys out there doing wonderful stuff, Robin Mather for instance, but it's all so low profile…. perhaps we need a UKHBS to stimulate the scene here too….. Anyway, I can dream… in the meantime though check out some of the talent in the NAHBS gallery here… I don't have a particular favourite, they're all ace, but if I had to pick one then naturally it would be  fixed gear and it would be Dan Polito's "Jack Taylor" (below)… and I'd also like something with wooden fenders and a three speed fixed hub… and…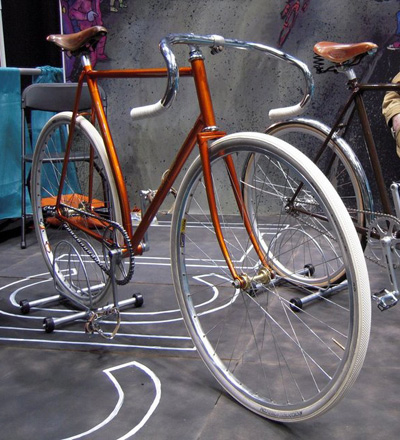 I suppose it's at this point that I should expect to be reminded that the UK has Mercian Cycles and Bob Jackson amongst others… well, yes, and very fine frames they are too, but maybe it's just me… they seem to be somewhat 'staid' in outlook and lack individuality… ? Lots of tradiitonal class however. Anyway, I guess wait lists for Mercian for example are reasonable at around 5 months, Sacha White of Vanilla* has a wait list of around four years (and I believe has stopped taking new orders for the time being)… the price of individuality!
* do check out his bikes though, they are gorgeous…!