hey, Happy New Year everyone :-) I hope your 2010 kicked off as well as mine. Fabulous weather today for a paddle from Sennen, below the towering granite cliffs round Lands End past Porthcurno where the plan was to land below Treen cliff for a late lunch (we didn't set off till midday…) but just enough of a dumping surf to make life awkward (and wet) saw us take the drier option (it is January after all..) and backtrack to the sheltered cove of Porth Gwarra… most fortuitously as it happened, there was a local family on the beach, BBQ and bonfire going and hot baked potatoes dripping with butter were being thrust into my hand almost before I'd released my spraydeck :-) They were a terrific bunch and happily allowed us to hijack their fire to keep warm.. the temperature once the sun dipped behind the cliffs was hovering around the 2-3degs mark. Our return to Sennen was timed perfectly just as the sun dipped below the horizon and the temperatures plummeted back to freezing point.   Best day paddling of the year so far, hehe :-)
those Tiderace Xcites (Xciti..?) again...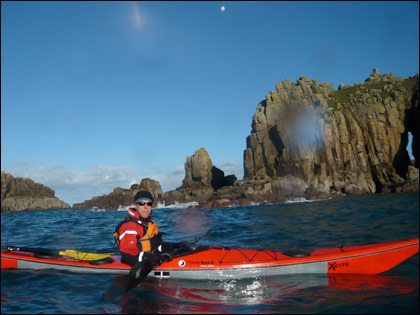 muggins.. again, I thought I was smiling, lol, if only that water spot was just an inch further to the left..
the 'Tiderace twins…'?
late afternoon off Lands End
what's left of the RMS Mulheim, wrecked in 2003… originally 90m long & 1600 tons gross!
2009 ended on a satisfactory note too… with a stiff 80km fixed gear ride yesterday afternoon in good company that I enjoyed out of all proportion to the weather (grey, icy cold, damp and very windy), and complete with a suitably chocolatey cafe stop at the Chocolate Factory in Mullion :-) Looking back 2009 was my shortest year on the bike for a long time, by a long way – just over 8100km, and I didn't ride a single race….  but more than compensated for by a lot more free time for getting out on the water. This year looks to be a good one for riding with at least as much that being ridden in South America before June :-)
So that's it really, I'm worn out, I wish you all the best for the next 364 days :-)
*It sank in this morning that it's 10 years since I saw in the millennium in a snowstorm at -20 degs in Montreal…. a whole decade gone, scary.. :-| As I write it's 8.55pm and some twit is letting off fireworks outside… mate you're a bit late, I know this is Cornwall but really does five to nine in the evening on 1st January have any significance at all? Maybe he just learned to tie his own shoelaces.