I think it sounds better in Spanish.. "los tiburones han llegado".. but I have to get used to the idea that I ain't in S America any more… but I digress; apparently a little later than usual this year as the sea is still very cold after an icy winter I happily managed to avoid,  my arrival back in Cornwall also seems to have coincided nicely with the arrival of the first basking sharks into the waters off Lands End. Out for a paddle yesterday afternoon with friends we spotted a number of them, hard to tell how many were as they circled our kayaks though a  diver we met filming in the area said he had seen 8 at once… Simultaneously awe-inspiring, beautiful and a little intimidating as these 7-8 metre monsters cruised below my kayak close enough to graze it with their fins.  Hmmm, tiburon definitely sounds better than shark, especially for these peaceful creatures.
Yesterday was the calmest I've ever seen out there , the complete absence of any of the usual Atlantic ground-swell and a slack tide gave access to some stunning caves and nooks I've not been able to explore before. We launched from Sennen, spent a few hours exploring and then stopped in at Porthgwarra for tea and pasties at the cafe before returning. Apols for the few pics of average quality, I really want a waterproof camera for these trips but holding off spending anything until I know what my immediate work situation is… so these were taken with a vintage Canon Ixus, not waterproof and just 4Mp, that simply refuses to die no matter what I do to it… it's been encrusted in salt, covered in coffee, frozen solid etc etc. Amazing little thing :-)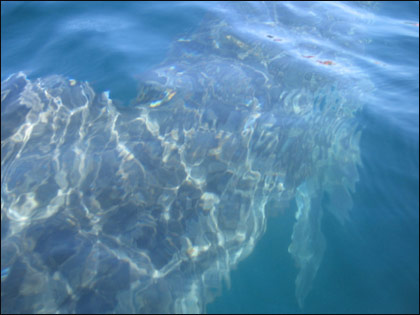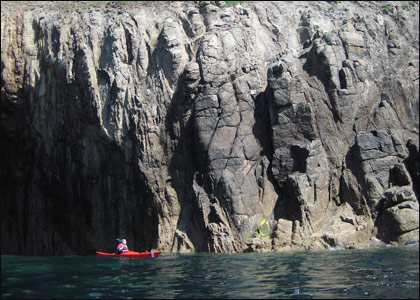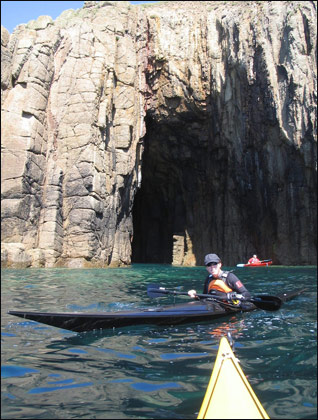 I must admit, I'm suffering a bit today.. after months in an environment free of any allergens (i.e desert and the altiplano) this last couple of days I've been feeling pretty shafted by the English environment. The last couple of days not too bad but today my skin is pretty raw so no salt water or two wheeled activities and I'm more stuffed up than a fat teddy…. so despite my love of Cornwall I may not be best designed to live here, hehe. So.. you know what, I'm going to retire to the sofa and get all misty eyed watching "The Motorcycle Diaries". Again. Hasta luego!