Time to let the proverbial bicycle coloured cat of the bag.. I've been wondering when would be appropriate as we're not ready to start trading yet, although the blog is up and running (more in a mo), but then it occurred to me that there may well be a lot of people interested in how one goes about starting a company running cycling tours in Asia, the things one has to think about, how to comply with the law with regards to package travel regulations and so on. I also hope that this insight into how we're doing business will help people feel more confident about booking with us when the time comes. So this is the first of many posts on this topic, and I will be writing on the Painted Roads blog about more of this. There is also some great photography already on the blog as we document the research for our first Southern Thailand and North East Vietnam journeys. The north east Vietnam tour in particular is interesting as we have permission to access areas normally restricted to regular tourists. However I digress, more in that in a mo.. I must also say that I'm running this alongside the web development business, I have no desire to give up that creative little niche.
So.. history.. a couple of years ago thanks to cycling through Northern Argentina I came into contact with David, a fellow two-wheeled nomad who had been working for a well-known operator as  bicycle tour leader for a number of years.. and a very highly regarded tour leader at that. Between us we bounced around ideas for a business of our own that would let us introduce people to the delights of travelling by bicycle in our own particular way, taking advantage of the intimate knowledge of the various destinations we have between us. So, after kicking that ball around for a while the time was eventually right to make it a reality… David brings an awful lot of experience as a cycling tour leader with a network of contacts, an intimate knowledge of the quieter backroads of Asia, and what appears to be something of a fan club among the various people he has guided over the years. From that we really want to encourage people to engage with Painted Roads as something more than just a business.. be our friends if you like. It's all in the plan.  As for what I bring to the business… well I just like riding bikes.. seriously though years with a global blue chip corporation operating in a sensitive sector, not to mention the experience of getting one business up and running,  have given me something of a business head not to mention a very strongly in-grained sense of professionalism & ethics when it comes to business… particularly important I think when taking money from folk for an experience as special as a cycling holiday. Perhaps most importantly we both share a passion for being able to introduce people to the delights of exploring the roads less travelled by bicycle. At the moment we're expecting to have our first official tours running in January next year although both the Vietnam and Thailand tours are being run informally later this year by Dave, and there are bookings which is great. Unlike our competitors the plan is not to offer a standard tour in loads of different destinations but rather to focus on areas we know best and hence can offer a really special experience. Initially just Thailand, Vietnam, Nepal and possibly Laos. We're also keen to promote the idea that these are not endurance challenges, but rather memorable adventures for the average cyclist of just about any age with the emphasis very much on enjoyment.
The skills I have in coding, graphic design, photography and so mean that I'm also well placed to produce lots of appealing material/content as well as an utterly gorgeous (modesty suits me…but everyone who has played with the development site loves it..) website. The website is not live yet, as once it is we will be 'trading' in the eyes of the HMRC and we're not quite ready,  but with no client restrictions such as budget, branding etc I've been able to fully express my ideas about how the site should be.. so I've produced something that is very different in appearance to our competitors sites that all tend to follow a very similar template/format. After all we're under no illusion that the next couple of years are going to be very tough in terms of growing the business so having something memorable and engaging to use was important. It also has a very strong emphasis on photography from the regions we explore… it's a powerful tool,  we want people to look at the pictures and instantly want to go there. I also wanted this site in my design portfolio as a concept I can sell on as I've written a very specific content management system behind it with some clever features (well, I think they're clever..) for creating new tours and so on. You won't be able to appreciate the groovily interactive nature of the site until it's live so stay tuned for that but in the meantime a couple of screenshots below. I'm really enjoying working on this, I'm quite nerdy in that I like writing code and making it do cool stuff.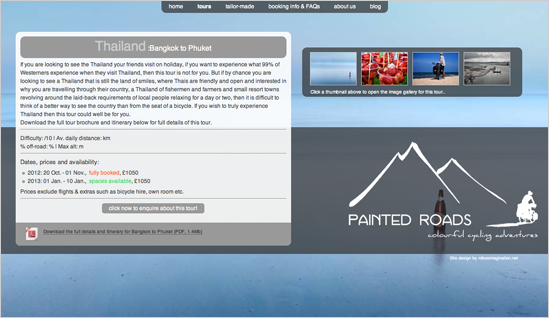 Now, the blog.. I'm using wordpress to power the blog, it's a great blogging tool after all so no point in re-inventing the wheel. At present I've blanked the site navigation menu that would normally be visible so blog pages do look a little unbalanced but we were keen to get some material out there as we research our tours and so on. So yesterday I posted the account of the research for the North East Vietnam tour.. it's well worth a read and Dave's photography of the region is quite special.. there are a couple of previews below, the rest is here: http://www.paintedroads.com/blog/?p=93 or you can just click on the pictures.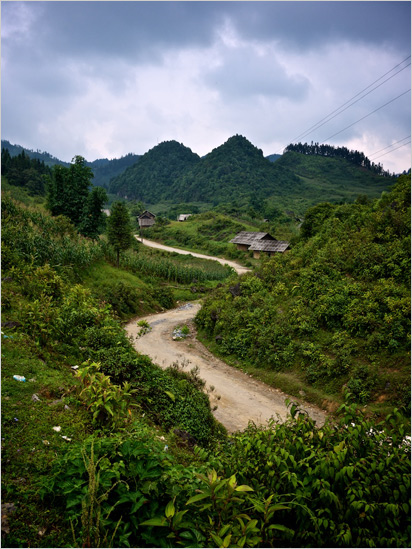 and  Thailand is here: http://www.paintedroads.com/blog/?p=22
We have some great ideas for tours that are a quite different to the 'standard offering' of our competitors, again it comes back to just how hard it is going to be to establish ourselves in the market place, and our desire to build Painted Roads into something more social than just another bike tour company. We have our work cut out… interestingly I was offered a contract job back in aero engineering last week. Really good salary etc etc.. it was tempting but I turned away, I'm not broke just yet and this together with the web development is an opportunity to pursue a dream and create something really rather good.
I would encourage  you to subscribe to the RSS feed if you're at all interested in what we're up to, or photography, cycling etc.. so, yeah.. stay tuned, we're really excited about this and want to share the journey, not just the cycling journey but also the whole experience of setting out along the, errm, Painted Road.. or something ;-)
'till next time.. I'm off to design biz cards, got brochures to finish, code to write… etc etc :-)