I seem to have become very busy all of a sudden… in a good way, especially as the Painted Roads enterprise gradually gains momentum.. of which more very soon although in the meantime Dave has just set off to research a new tour for our portfolio .. following the Ho Chi Minh trail in Vietnam. It promises to be  goody, you can follow him on the Painted Roads blog here. I'll write more about Painted Roads and some of our plans in the next couple of days.
So what with Painted Roads, and the flippin' awful weather of late.. and complete absence of usable surf there hasn't been as much bike and kayak time as usual, although today went some way towards correcting that imbalance with a friend in the form of a solid few hours of paddling our Greenland boats. Summer happened briefly today, for about 4 hours before the wind freshened and the sun disappeared with the approach of a weather front, and later on we watched fascinated as tendrils of fog wrapped their way around the surrounding headlands. I had hoped for a foggy paddle home, hugging the coast, for some photographic interest.. but the fog stayed away from our little patch of ocean. It's over a year now since I made my second carbon greenland stick, it's still going strong, love the thing.. I must order some more carbon and make myself a storm paddle for a carry-along spare.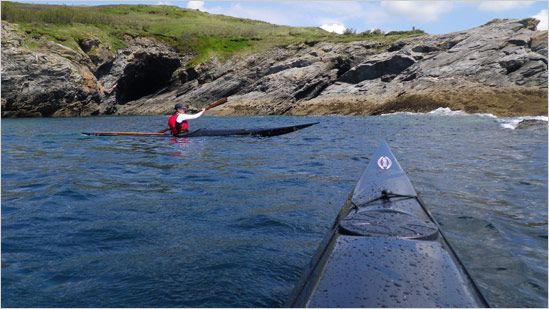 We've been talking about using these low volume boats for overnighting instead of regular sea kayaks.. not much room for anything other than a bivy bag, stove and a change of clothes for off the water. Should be fun.