Early this morning while stripping off and changing down at Sennen beach for a surf session, a little robin with his feathers all puffed up against the cold, landed on the bow of my surf boat and looked at me in that way that only robins do.. you know.. head cocked to one side and in this case an expression that said  "silly fool". It was a little brisk, 0 degs in the still air under the cliff behind the car park, but out on the water somewhere around -10 with the chill of the stiff northeast breeze. It was a stunning morning to be in the water however, beautiful clear skies, crystal clear sea and fun, shapely waves of around 5-6ft on sets. An additional benefit of the chill… empty waves. It was a lovely session. But that's not why I'm writing… actually there is no real reason for writing other than I'm on my bean bag by my log fire and thought I might have  a bit of a ramble on various topics having not written much for a while, and while dinner cooks itself.
My mind has been very much on another two-wheeled adventure as soon as possible, it didn't happen last year as my business has been/is taking off to a greater degree than I ever expected to happen so quickly. It's not really a downside however as it's my business and I'm enjoying it, and life at home is ace.. the freedom to surf, ride, paddle pretty much whenever I like during daylight hours and catchup with work in the dark evenings and wet weekends. I had thought I'd be able to nip off and do some riding early this year in Yunnan and Burma with buddy Dave of Painted Roads but new projects mean that isn't going to happen.. so I started laying plans for heading either back to the Himalayas or northern Peru for a month later in the year.. but then something very exciting happened having been engaged for my development services by a US-based company looking to create a truly global brand (they already have penetration into 80 countries but are looking to step up a level).. and that's on a racy schedule for completion around q3 this year.. so now I don't know. I think I'm just going to be heading off somewhere on the spur of the moment as soon as I spot a gap in the schedule.. I still think I ought to be able to squeak 4 weeks or so in somewhere, and at the moment a return to the Himalaya as I seem to have spent an awful lot of time in S America :-)
Now, this post would be awfully dry without some pictures to look at… so.. some pictures. I have a few films here I need to process (soon) but in the meantime I was digging around in the archives a couple of weeks ago and came across a pic I have never shown before.. special because it was taken on Agfa Scala.. a film I used to love (before Agfa, and it, disappeared a few years ago), although with only a few labs around the world able to process it I didn't shoot loads thanks to the cost. If you don't know it was a monochrome positive (slide) film with a palette that can only be described as celluloid chocolate. This pic never made it into any portfolios, at the time I think perhaps I didn't appreciate it.. but that's the beauty (well, one of them, for me…) of film.. having those little 'chips' of film to be held up to the light and revisited, and re-appreciated at some unspecified time in the future.
And while I'm at it a couple of other pictures from the same roll.. same place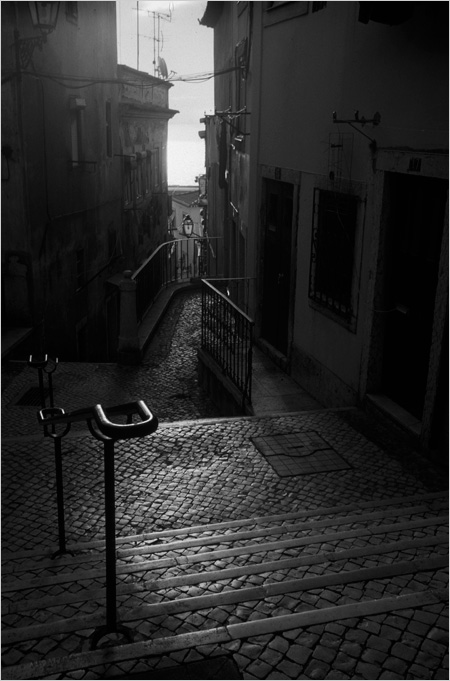 So having got something to look at out of the way a brief return to the work flavoured stuff.. in case you're interested. There's a new write up over on my development blog of one of my current projects.. it's a cloud-based solar energy application and it's really cool.. well, a bit nerdy perhaps but hey ho, I'm enjoying myself :-) You can read about that by clicking the picture below..
cheero!