OK, so after introducing it to you gradually (part 1, part 2, part 3) and having put some decent miles on it since I took delivery of the frame I figured it was about time I wrote about it properly. I can't write a review in the conventional sense because being a custom frame it's unique, if you bought one it would be different to this one… but I can ramble on about what I wanted and whether or not I got it… By the way, the photos below are in black and white.. mainly because I like black and white, everyone knows what colour titanium is anyway and it makes the dirt harder to spot… not to mention the weeds in the various locations I grabbed photos…
The basis for this frame had been forming in my mind for many months while cruising around Cornwall on various flavours of fixed gear machine. I wanted something that would look really good in summer (very important…:o), be a heap of fun to ride while churning out the training miles, take mudguards if I wanted, minimum maintenance and virtual immunity to wet, salty, gritty winter roads… Titanium makes a lot of sense in this context and I couldn't get exactly what I had in mind as an off-the-shelf frame so given that Mike DeSalvo already had my measurements from an earlier order for cyclo-cross frame it made sense to give him a call….and handed over roughly £600 deposit. That was back in March '08 right after I came home from Colombia. Fast forward five and half months (there's a wait list..) to September and Mike's first draft design arrived in my inbox. I'd asked for hidden mudguard eyes, no rear brake provision and a stiff frame for efficient climbing, and that's what it looked like I'd get with some nice fat pipes. Mike's solution for the rear mudguard eyes was to hide them inside the seatstays just above the dropouts, a small boss underneath the seatstay bridge and a boss in the rear of the seat-tube. Perfect. We went through a couple of iterations of the design, mainly cos I was mucking about the degree of top tube slope and the head-tube length… nothing to do with geometry, I'm just have a peculiarly fussy eye when it comes to making a bike look exactly 'right'.. :o)
The frame finally arrived in November looking really nice. Mike won an award for his workmanship at last year's National Handbuilt Bicycle Show in Oregon.. well deserved I think. In the box with it I also had a Chris King Headset (bit of indulgence but hey, the frame was worth it), Reynolds Ouzo Pro fork and a Thomson Elite seatpost (30.9mm dia) thrown in FOC :o) Buried in all the packing material I also found a rather chunky stone-ware pint-mug with Mike's logo on… bonus :o) Total cost in the end was US$2650 (inc. shipping) less my deposit… which to be honest for a pint mug of such fine quality I'm sure you will agree is pretty reasonable…  For a full custom titanium frame with fork and headset it's a relative bargain, especially when you look at what Litespeed, Merlin etc charge for an off-the-peg frame.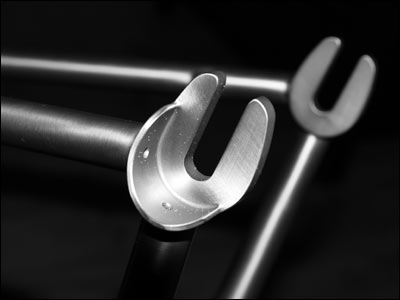 The important bit then.. did I get what I wanted… yep is the short answer. Yep very much so is the long answer. The very long answer however is that it's everything I wanted in terms of ride. The frame has turned out to be very stiff laterally which makes it great for dancing up Cornwall's steep hills yet it still manages to retain the classic 'titanium spring'. The stiffness of the frame and the quick handling make for a very engaging ride, it feels like my Condor Pista EOM in terms of handling but rides 'lighter' if that makes sense. It really is the nicest bike to ride. As you'd expect for a custom geometry the fit is spot on, not much else I can say about that really. The look of the thing is perfect, a blend of classic round pipes with just a slight style 'edge' from the slightly sloping top tube. The hidden fender eyes (darn' slipping back into Ameri-speak…) make for super clean lines and I'm reluctant to spoil them by actually fitting the guards…. after all not having gears means that it's super quick to clean after a filthy ride, the cowshit washes off so easily…. and I've gotten somewhat used to the soggy bottom feeling again…
For the record the build list looks like this (most nicked off my old Condor)
Fork: Reynolds Ouzo Pro
Headset: Chris King
Wheels: Goldtec track hubs on Mavic Open Pro rims Phil High Flange hubs on Ambrosio Excellence rims
Stem: Deda Zero 100, 110mm
Bars: Deda Nueva Sfida
Levers: Campag Record Carbon
Chainset: Truvativ Omnium track, 172.5mm cranks, 48T ring
Sprocket: Phil Wood, 18T x 1/8″
Chain: Miche Track 1/8″
Front brake: Campagnolo Record
Seatpost: Thomson Elite 30.9×300
Saddle: San Marco Regal-E
A few words about the build… the chainline on the Goldtec hubs is quite outboard compared to most track hubs so I have a 2mm spacer behind the drive side BB cup to get a decent chainline. The Truvativ BB comes with spacers anyway so it all works fine. The Omnium chainset is great,  it was the only track chainset on the market to use external bearings (FSA I think have one now too) and the chainring is a massive 5mm thick… that combined with oversize axle, outboard bearings and super-chunky crank arms makes for a super-stiff unit. Combined with the stiff frame the whole package makes for a very good uphill bike, very little energy wasted when pumping the fixed gear up Cornwall's gradients…
So there you have it, if you've got half a mind to have something a bit different you could do  lot worse than point your mouse to http://www.desalvocycles.com and if you tell Mike I sent you it won't make the slightest bit of difference and you won't get a discount (but I might on the next one, who knows… :o)
Update June 26th 2010 with "a post about shiny things…" 
.. or more specifically round shiny things called Phil.  It was about time my DeSalvo fix rolled on a set of hoops to match the pedigree of the frame… the Goldtec/Open Pro wheels were fine but have been around a bit with more than 20,000km on them and they weren't very shiny.
metal coloured stuff… and I really need to get around to giving that wall another coat of paint…
Now however the bike is rolling on some very shiny Phil Wood high flange track hubs built onto classy Ambrosio Excellence rims. mmm… probably the finest track hubs on the market.. if Carlsberg made hubs etc etc… These are actually the wheels off my Ganwell Pro which is now for sale – more than that in a mo. While I'm on the topic of Phil bits.. with reference to my last, and admittedly rather dull post where I wore out a Phil sprocket primarily because I forgot to check the chain for wear … the nice folk at Phil Wood got in touch to say "oh it should have lasted longer than that.." and despite me being slack with regard to replacing chains are sending me a new one… how nice of them ! :-)
a rear Phil…
Very much a super bunch of folk making some top notch gear over there. I did ask for a nice and shiny track crank in a 172.5mm or 175mm length while I was at it… sadly such a thing is not on the cards, at least not yet, but apparently we can expect some interesting new stuff come the fall.. I have no idea what but you can bet it will be very nicely made.. and very very shiny :-) Interestingly a Miche sprocket won't work with a Phil lockring – too slim to retain the sprocket on it's carrier.. and as none of my other spare lock-rings would fit I had to delve into the shiny things box for a very shiny 17T EAI Superstar sprocket.. I normally reserve these for TT use, and the 17T only for hilly races.. but then they're beautifully made and polished so what's the point in having them if you don't use them.. mind you it's only a stopgap 'till the new Phil arrives. I get mine from Will over at Hubjub. Highly recommended (both Hubjub and the Superstar.. and the Phil sprockets he sells too ;-)
… phront Phil…
As for checking my chain, hehe, with my geared bikes I keep a close eye on wear but you know how it is with a fixed.. they just go on and on and on without any attention until one day you suddenly realise it's all worn out. Lesson learned, I'll be swapping my chain every couple of thousand Km now.
p.s. going to leave the word "shiny" alone for a bit now I think ;-)