2020 Update
This bike is still in regular use, and folk still read this post, so perhaps a quick update is on order, almost 8 years on from the original post. It's been probably the best winter trainer I ever owned, I still think the compact frame looks a bit rubbish but functionally it's a great bike. A few tens of thousands of km in winter conditions mean it has a decent 'patina' now, and while the build is largely the same, like any respectable winter trainer nothing really matches any more, not even the tyres. For ex. the front wheel is a Rigida Chrina rim on a Surly low flange track hub, while the rear is still the original Goldtec + Open Pro; the front Goldtec hub eventually went in the bin when, on removing failed bearings, I found that the bearing seats had become too badly corroded to seat a new bearing properly. The rear is still good though, I'd fitted some Enduro bearings after the originals failed in 2007, they're a bit rumbly now but still OK.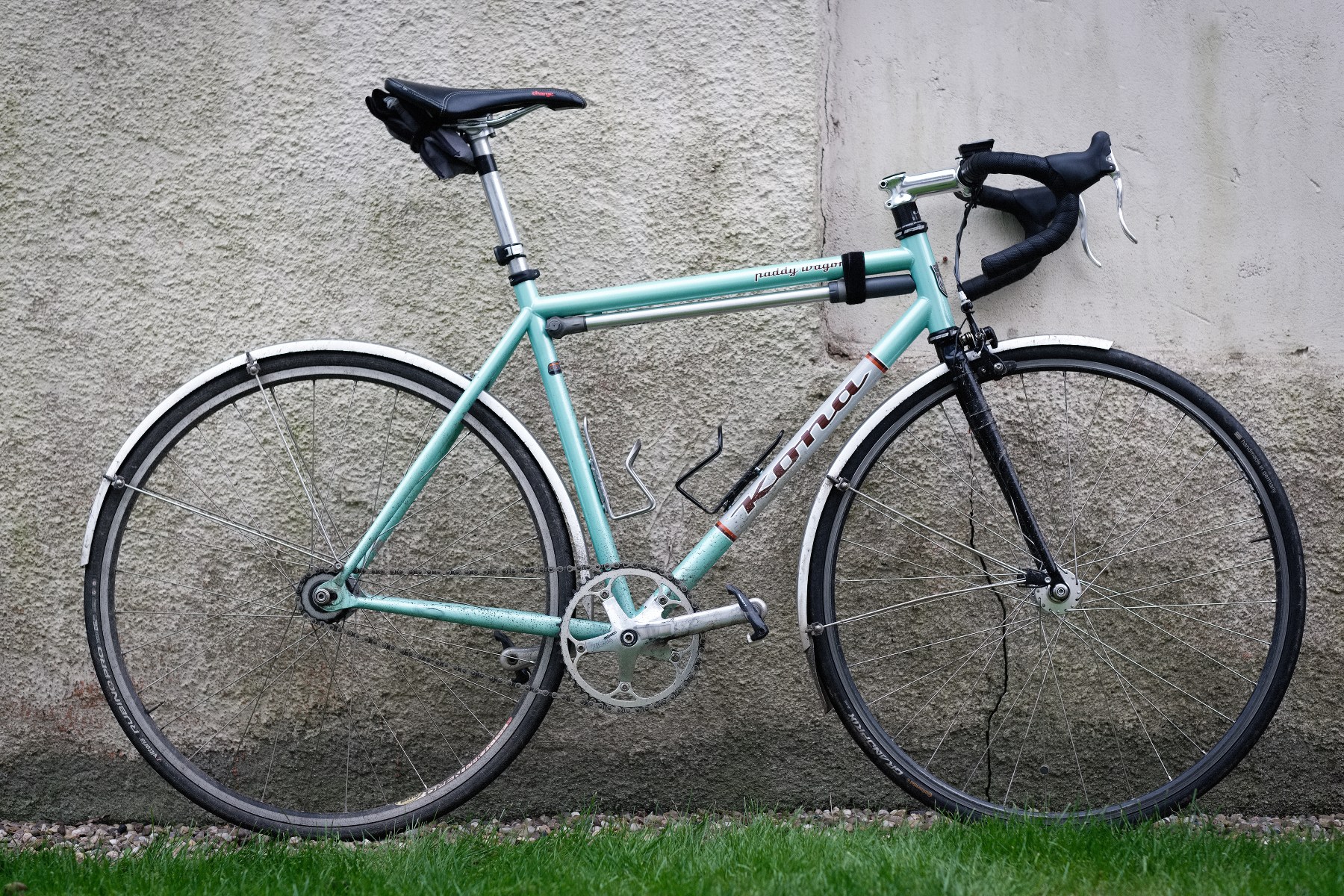 The Honjo fenders eventually fatigued and snapped around the frame mounting points (rough roads), and have been replaced by a pair of trusty  SKS chromoplastics. The Miche BB still spins like a new one, this one was already secondhand when I put it on this, so has around 40-50,000km on it. It's one reason I have so little time for modern external units that struggle to last 3000km. I can't imagine I'll ever get it out of the frame now however, bit like the seatpost  – that's seized; no idea when that happened but my legs are no shorter so it's not an issue. I run a 49×18 drivetrain for winter; Miche cogs are cheap at around £12, and as winter has a habit of grinding drivetrains to sludge, a few years ago I picked up a box of 20 SRAM track chains at £1 each. Traditional winter bikes seem to be increasingly rare as a marketing driven world persuades people they need high end carbon bikes for winter riding, so as not to wear out the high end carbon summer bike.. I love this little bike, it has many more winters ahead.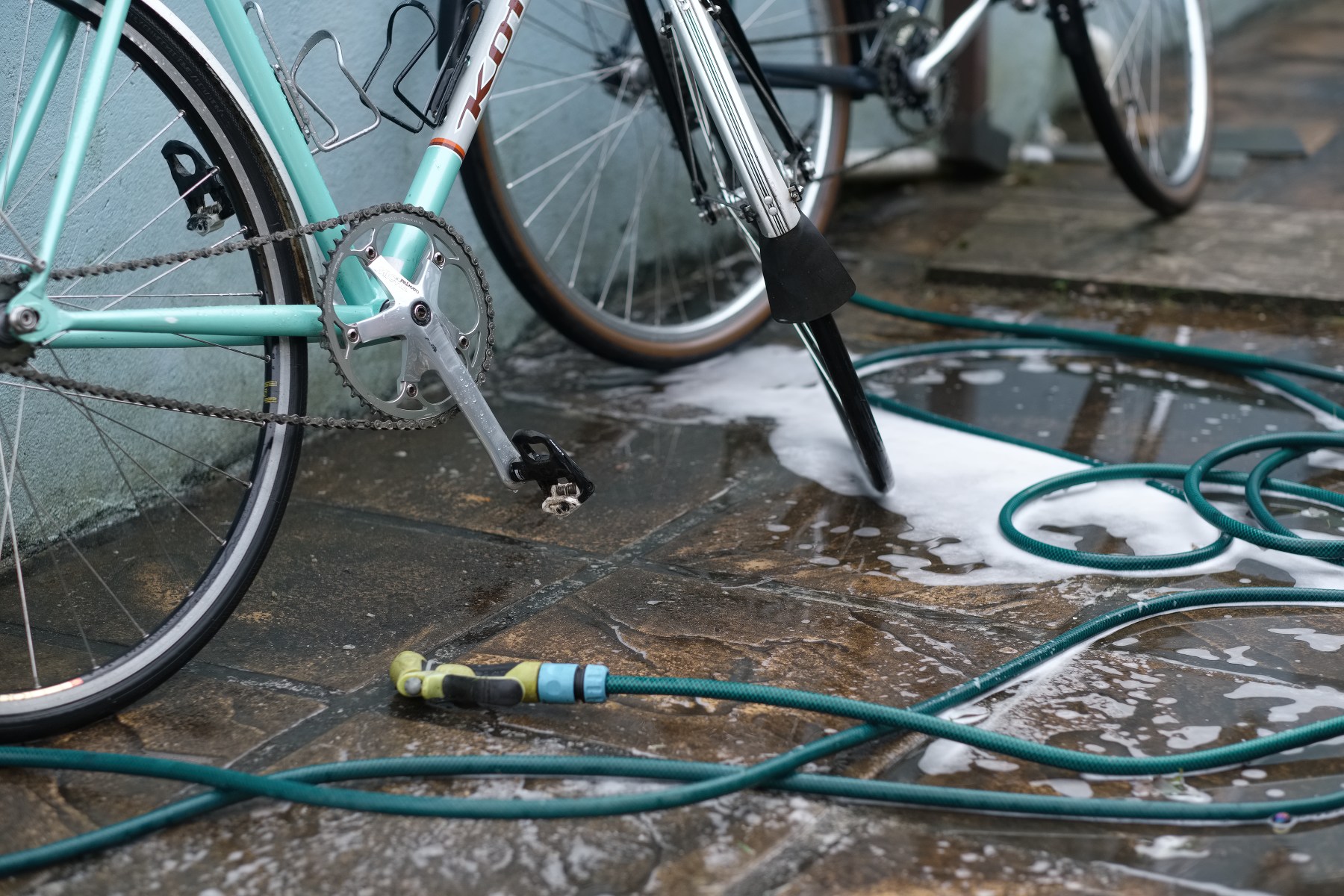 Original Post
The PaddyWagon frame I found has built up into a really nice winter trainer.. I built it on Tuesday afternoon and took it for a quick 60km shakedown spin yesterday afternoon. It's a nice ride.. not as sparkly as my DeSalvo but you wouldn't expect that, but it does have that nice ride that is particular to more than half-decent steel frames, handles well and is stiff enough to go up hills quickly without feeling as if the frame is soaking up the energy from my legs. Should keep me happy for a few winters, although I distinctly remember saying that about every one of at least the last 5 winter bikes I've built…
Most of the parts came out of my bits box with the exception of the headset (new), the mudguards/fenders (£20 from a mate), a deep drop front calliper (DiaCompe, fleabay) and a new chain. I use Miche 1/8″ track chains a lot, they're good value – you can usually find them for around £7, they run quietly (unlike some 1/8″ chains) and last well enough to survive a solid winter of riding. The build is a somewhat eclectic mix, and quite classy for a winter machine.. Goldtec track hubs on Open Pro Rims, those Honjo fenders, a Thomson Elite seatpost, Deda Newton bars (on a no-name polished stem), Miche track chainset (172.5mm) and the San Marco Regal saddle that used to be on my Nomad.. the leather is totally worn out on it but that saddle and my butt have seen some pretty epic journeys together so I'll keep using it 'till it dies completely. Gearing is pretty standard 48×18 that I've been running in the winter for years.. gives me a comfortable cruising speed range up of a relaxed 2okm/hr up to 40-41km/hr.. or 48-5okm/hr if I cane it but the cadence gets a bit high to sustain for more than a few minutes, and I  can get up everything that Cornwall has to offer by way of hills, including the stiff 22%+ grades around the Helford without particular difficulty.. well, no hernias anyway. Sorted.
I still maintain that compact frame styles look a bit silly but for the paltry sum it cost me I can live with it… and it is a nice colour..