It became a bit of a standing joke really amongst my friends… my seeming inability to actually leave Baños despite having the bike packed and the best of intentions each night to leave next day…. it just happens that way sometimes but the reality is that all my attempts to leave were sabotaged…. On Monday morning it was the appearance of a Swiss nut guy who detained me for a few hours over coffee until all motivation was lost and the bike unpacked… and then yesterday morning it was the hangover from multiple shots of the local sugar cane liquor while halfway up a volcano at around 11pm at night… I didn´t ask for the continuous refills. This morning´s attempt to keep me in Baños failed eventually but I it took me a while to track my front wheel down… the buggers had hidden it on the way back from the bar early this morning… (yes, somehow despite my best intentions to get an early night to make up for the preceding days of craziness I somehow found myself in a bar till gone midnight drinking Pisco Sours… how that happened I have no idea. Perhaps I´d better go back to the beginning, or rather since I last wrote… Monday.
It´s been great actually, kind of the holiday I needed for a few days after leaving work in December. Monday then was just one of those rare days when a number of independent folk happen to bump into each other while travelling and develop a terrific synergy… Plans for horses on Monday failed miserably when it started raining so after a leisurely lunch the herd dynamic eventually saw us all exploring a canyon just outside of town for a few hours. It was actually rather good… a few hundred feet deep with a raging torrent at the bottom. Soaring basalt walls with a black sand beach at the bottom and dense thickets of bamboo. It was on the road out past the zoo (yes there is one.. albeit tiny), or rather the "animal prison" as it´s labelled on one of the local maps.
The evening is something of a blur, you see you can get very very good red wine from Mendoza here for not too many $$$, and it goes so well with a big feast cooked up back at the hostal. It was around 9pm I think that some bright spark thought it would be  great idea to climb into (or rather onto…) a shonky old truck for a ride up the precipitous dirt hairpins of a mountain directly opposite the volcano to see if there was any action going on… there was, a bit, but of more interest given I´ve stood on erupting volcanos before was that I discovered the lighter I bought in Quito has a blue LED light in the bottom… not much use except for being a twit…. which comes naturally of course. (photograph courtesy of Daniela). It´s also at this point that the local firewater comes in, it was a very cold night and the liquor was hot….
So Tuesday then, yeh I had a thick head first thing and I actually ditched any idea of pedalling back up the mountain to Ambato before I had even got out of bed. The prospect of a few leisurely coffees over breakfast was far more attractive. It took a while for the day to actually take shape but eventually 6 mountain bikes were hired for the others and the 7 of us took off down the valley east towards Puyo. The whole point of the exercise being to see the fab Cascada Diablo at Rio Verde. It´s only 20km away and downhill but somehow it managed to take 3hrs to get there… all highly amusing and the picnic stop was leisurely to say the least. The falls are spectacular, thunderingly powerful as they plunge down multiple cascades in the forest. I´m not going to show you a pic, you have to visit yourself and besides no pic could ever do them justice. The challenge on the return leg, given that I was "the cyclist" was to beat the truck that the others loaded their bikes into back to town (though Shawn and Susan opted to ride back much to their credit)…. I had a slight headstart as they loaded the bikes but I was caught at the 5km to go mark… I thought it was good going, I turned myself inside out to do it, uphill most of the way so I rode it like a timetrial… on my touring bike. It felt great to really open the lungs again but the heat and humidity kind of left me with an exploding head feeling. I made just as they finished unloading the bikes… despite losing the race they were all suitably impressed and I was suitably smug in return :o). The only true comedy moment of the day was riding at full speed intoa  road tunnel only to find that due to it´s length and curve it was absolutely pitch black… with no lights this is a somewhat disorienting experience… the situation was not improved by removing my sunglasses…
(spot the idiot Brit..)
Tuesday evening then… this went slightly pear-shaped too… it started well enough with a couple of hours cooking in the volcanic hot springs… Shawn (mister Swiss guy) had brought a couple of eggs to see if he could cook them… but broke one in his shorts and kept taking the other one in the icy cold pool every 20 mins so predictably it didn´t cook.. I offered to take custody of it at times in the hot pool but I think he´d lost trust in me earlier having got to know me… :o) The springs were great actually, my lean, super toned (ahem) cyclists physique was something of a novelty judging by the attention… most agreeable. You can probably figure it out….
Dinner was yet another massive affair, I´d planned that early night but as you already know it never happened…
This morning though, despite the missing front wheel my resolve was rock solid, if a little late in getting up. The climb out of Baños wasn´t so bad… well, actually it was but I´d like you to think I´m just ´ard. I climbed about 1200 m in total to get to Ambato… which is where I arrived some 40km, 3.5hrs, 4 bananas, hañlf a packet of biscuits, a coke and 5 litres of water later… It was a hot and humid climb under heavy clouds, I really didn´t have the legs to keep going to Riobamba today… that road descends and climbs a further 500m or so I think.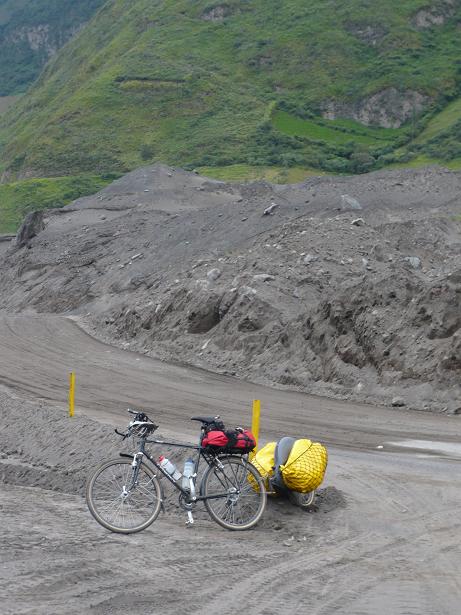 (the road out of Baños)
Ambato is a town I´ve decided is notable only for the bonkers traffic, the apparently arcane street layout and difficulty of actually navigating to the center…  maybe it was just me but I´m sure it´s not ideal to have to negotiate a series of steps on a 25% grade, downhill, on a bike with a trailer. Still, I made it…. I found a place to stay for $7, it´s OK, clean but dark and it ain´t Baños… but there is great pizza in town and tomorrow I´ll be in Riobamba anyway. Plan to stay there 2 nights.. (heard that before…) I´ll have time to look around the town tomorrow afternoon and then make a day trip on the bike south east towards the Sangay volcano on, errm, Friday… (it is Wednesday today isn´t it?)
By the way, did you know they have a bird in Ecuador called the Cock-of-the-Rock… which makes me wonder, I imagine it´s very much the case here that when talking about birds then a Cock in the hand is worth two on the rock… might be fun to test that theory…
Adios!!
(Tungaruhua hiding in the clouds)