In the interests of avoiding the main roads and keeping things interesting my route plan took us out of Mendoza by the 'back door' … It was also Mark's first introduction to riding in South America and the other options of Ruta 40 north or the Pan Americana north-west simply would not have have done :-) It's great having Mark along after the last 2000km alone, aside from being great company all of a sudden I can give my photos better context ;-)
We were pretty late leaving Mendoza after a late night out Friday but I'd planned a short day of just 50km up to Villavicencio anyway… to get the legs used to riding again after a few days of inactivity and it was all uphill anyway… So after 50km of riding uphill through a barren desert landscape towards the wall of the Andes we arrived at the little wooded 'enclave' of Villavicencio… the place is blessed with pure mountain springs and used to be the site of a spa-hotel.. that closed down many years ago and now forms part of a nature reserve.. the only other building is a a very friendly (well, to us anyway) cafe where we  enjoyed a good feed before pitching the tents in a misty rain under the trees nearby… it was a pretty wet night.
From Villavicencio the road goes up. Steeply.  For some 25km a rough dirt track, carved from the sheer mountainside, corkscrews it's way upwards to over 10,000ft… it was a sublime climb in thick cloud at first keeping us cool as we worked our way up..
after two hours of climbing we finally broke through the top of the cloud into bright sunshine… warm but with a nicely chilled breeze.. perfect for riding.
that's me in the black shirt…
up here herds of wild Guanacos were visible on the mountainsides… a relative of the llama, alpaca and other camelids – you can read about them here.
The track levelled out onto a high altitude desert plateau
before rising once again to the summit of the pass
and so to the reward, a long, fast descent in awesome surroundings on a loose, rocky surface…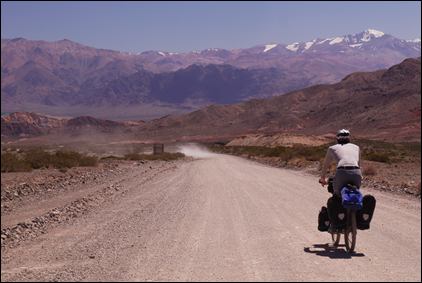 I have to say my Thorn Nomad (and Mark's Thorn Ripio) is an awesome bike, loaded up with more than 20kg of gear, food, water etc when pointed downhill on a poor surface it's solid as a rock .. we descended at 40-50km/hr with the frequent gravel/sand traps adding a little white knuckle flavouring..
Our destination for the day, Uspallata is a veritable oasis in the desert. Arriving among it's tree shaded streets was the perfect end to an awesome day of cycling. Hot too back down in the valley… 39 C again!
Uspallata is a tiny crossroads town.. muy tranquilo :-)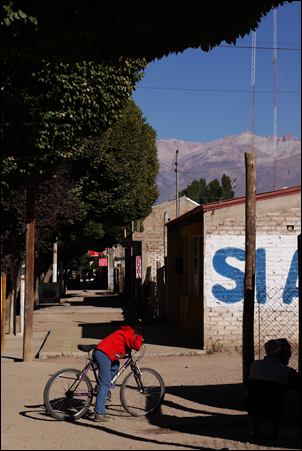 The Pan Americana to/from Chile runs by here however with endless streams of monster trucks…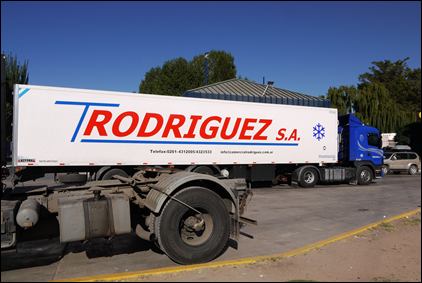 Our plan from here however takes us well away from main roads .. north on dirt roads through the Calingasta valley, the next brush with a highway is likely to be at San Jose in Rioja, some 300-400km north of here :-) It's slower and likely to be hard going at times, I'll need every one of the 12 litres of water I can carry tomorrow, but the rewards should be great :-)