here's my last diary entry for Tupiza…. a very social evening on Tuesday up on the roof under a full moon in the company of Malena, Kate, James and a couple of Argentinian motorcyclists… also present at the party a cheap bottle of local rum (very tasty) and an even cheaper bottle of vodka (not so tasty).
Don't know what happened much after midnight but hangovers much in evidence next morning as the two girls slung their bikes on top of a 4×4 for 4 days bouncing over rough roads up around Uyuni and so on.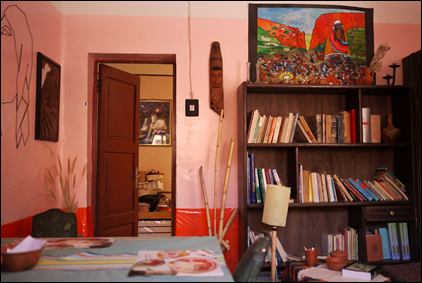 As for me, well a few days bouncing around on rough roads also… just on two wheels. As I write it's wednesday I think.. found a fantastic breakfast this morning in an funkily decorated old garage just around the corner before going off in search of supplies for the next few days on the road.. the usual stuff: rice, oats, pasta, nuts, dried fruit, crackers, avocado and stuff..
Rather amusingly have been bumping into a pair of russian girls on frequent occasions over the last couple of days…. sadly not on bikes but much better behaved and nicer to talk to than the pack of Israelis that have been in town… watched them dismantle a restaurant last night and then bugger off when they found out pizza wasn't on the menu, lol… the same the whole world over.
Trying hard to think what else happened in Tupiza, I felt really busy but probably only did useful stuff for an hour or so. Tupiza has been great for a couple of days of r'n'r… a beautiful plaza and very friendly people and despite what those Brazilian dudes said in La Quiaca .,. some beautiful and cheeky girls too, lol ;-)
oh, before I forget.. some boring number stuff I'd completely forgotten about… When I entered Argentina way down south I had to put on the immigration form the number of days I planned to spend in Argentina… up to 90. I had no idea.. I figured it would be a while but not as many as 90… finger in the air I wrote down '70'.. the immigration guys thought that was funny but I said "hey, Argentina es un pais grande..". What is interesting(ish) is that, without any planning, the day I left Argentina was exactly 70 days to the day since that day down south…
The other interesting (moderately..) was that when my odometer recently rolled past the 4000km mark the elapsed time on my computer showed exactly 200 hours (well, 200hrs and 6 minutes) riding time which is amazing… precisely 20km/hr across the deserts, mountains and all those winds :-) Can't imagine it'll last, Bolivia I suspect is going to turn into a whole other bucket of octopi..