OK, where to start… I have about an hour I suppose before I really need to go and find something interesting to eat… Right now I´m in a friendly little town called Latacunga, south of Quito… more on that in a minute however as the past couple of days have been quite fun….
Monday then…. got on my bike at 7.30am but the traffic was already horrendous, was a little nerve wracking navigating my way of the city, but only one incident when a cab driver (isn´t always… if it isn´t a bus or a BMW…) turned right across in front of me & I ended up with my front wheel in his door and the trailer at 90 degs to the bike… I was OK, made a face at him, he laughed and apologized so that was OK… he didn´t know about the small dent in his passenger door at this point…..
Quito is a long, thin city set in a basin… it took about 2hrs of mostly uphill riding through the city streets, in bonkers traffic, trying to avoid the broken glass and potholes to actually break free of the built up area. I was never really sure of my navigation thanks to the absence of signs so when I saw that big sign "Pan Americana Sur" it felt great. I love the moment on every trip when I feel I have finally broken free of all the bollocks and have nothing but adventure to look forward too… on Monday this point was on the crest of the pass above the city, just before descending onto the Pan Americana… the view of the mountains wreathed in clouds as far as I could see was my much needed adrenalin rush.
Mondays ride itself was a bit of a yawn, with no immediate option but to head down the Pan Americana it was just a case of trying to have as much fun as possible.. It wasn´t busy, the surface was good soI thought it might be easy going south down to the main entrance to Cotopaxi National Park… it wasn´t. It was nearly all uphill… I climbed 50km with another 10km of steep descending and some flat… I think. The truck drivers were good as gold, always ready with a friendly toot on the horn and in exchange for a silly grin and wave from me I´d get a wave and good blast of the horn back…. Part of the highway is a toll road, I knew I wouldn´t have to pay on the bike but I was in one of those silly moods so rolled up to the barrier slowly, smiled laughingly at the girl inside and said "¿Cuanto por gringo loco en bicicleta?" she laughed and sent me on my way to the amusement to the coppers standing nearby… made me happy ´cos it must be such a miserable job.
I had to stop after about 50km for a coffee, very much feeling the climbs in my legs.. there are plenty of roadside shacks (for want of a better word) along the Pan Americana… sadly coffee was a pretty poor word for the barely drinkable ´stuff´that arrived though I guess I was spoilt in Quito, sugar just about made it palatable.. it clearly had caffeine in it however so it served its purpose… that and a cheese sandwich cost the princely sum of 25 cents, yup US$0.25.
What else happened… ah yes, I stopped on one particularly long climb for a breather so was sitting on a log by the side of the road with a packet of biscuits when a local Indian woman came trudging up the road… took her by surprise I think when I offered her a handful of biscuits, we exchanged a few words and a smile and she went on her way… munching. She would have made a wonderful photo in her bowler hat and green velvet embroidered dress, I didn´t ask though… past experience says the locals don´t really like it and I´d rather leave her with a pleasant memory of the skinny gringo on the bike with the packet of biscuits…
Found a very cool place to stay after 80km, about 2km off the highway, down a little dirt track, right opposite the dirt road that leads into Cotopaxi. Very beautiful Hacienda type place.. all old wood beams and floors, fireplaces and white stucco. Friendly people too so depite being the only guest we had some fun with my Spanish and a beer or two….. Excellent thunderstorm after lunch too… actually I´ve enjoyed a good thunderstorm every afternoon since leaving the city… well it is the wet (or rather "wetter") season after all.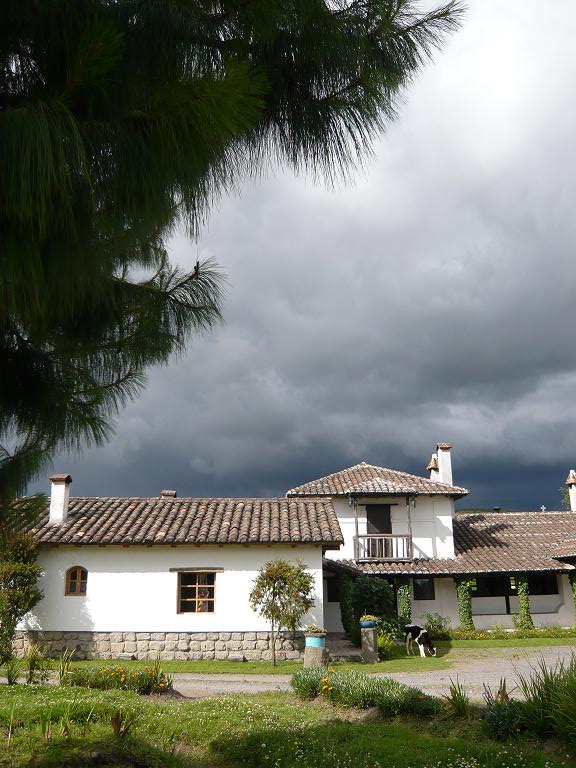 The trailer handles brilliantly by the way, very different from riding with panniers. The only ´bother´ I´ve had really is that it can feel a little nervous descending faster than 50km per hr but I suspect that is just my unfamiliarity with its dynamics.
Tuesday I left the trailer at the hacienda, strapped my day sack to the rack and rode 25km on rough dirt tracks right up the side of the volcano to 4300m altitude. Didn´t bother going up to the refugio at 4600m because I was already in cloud at 4300. It was quite hard going, basically 25km straight up (2 hrs), shallower gradient at first on very loose surface of volcanic sand and gravel – hard going. The steep sections were easier, despite being around 15-20% in places the surface was harder so easier to ride, good fun too negotiating the rocks and gullies. Although Cotopaxi herself was hiding in the cloud, with just occasional and admittedly very exciting glimpses of the snow cone, the scenery in the park is spectacular, Can´t be bothered to describe, you´ll have to go see for yourself (or read about is here). Stopped at about 3900m at the park centre.. sat by the log fire, drank coffee and scoffed a couple of good chunks of bread and cheese courtesy of the proprietor. Felt a bit surreal really…
From there it´s just about another 100m of loose dirt to a fantastic high plateau with the snow cone of Cotopaxi on one side, a lovely lake (Lago Limpipungo) and a bunch of other peaks on the other side. I spent ages up there exploring the vastness and enjoying the profound silence of the environment, before riding on up to the cloudbase. Around midday the clouds started to look really threatening so it was time for a high speed (well as fast as the terrain, surface and balls would allow) descent down the mountain with a thunderstorm snapping at my heels. Made it down with just a few tense "sand-trap moments" and back to my lodgings as the first heavy raindrops started to fall. Top stuff. It´s a shame about the cloud but I will pass by the northern access to the park on my way back north to Colombia so if the weather looks promising I´ll cycle in that way and camp up there.
This morning then was just an easy 30km down the highway to Latacunga… of course the sun was shining and Cotopaxi was clear of cloud… Only for a bit though so I didn´t feel too bad! It struck me as I was hammering down the road just how good this bike is… It´s the same every time I travel on it but to have a machine that can cope happily one day in offroad terrain I´ve seen mountainbikers struggle with, and then on the next day cruise quite happily at 45km/hr down the asphalt (I had a slight tailwind this morning… :o) without even a change of tyre pressure. Feels a bit like a freight train at speed with the trailer on!
Arrived here nice and early, it´s a very colourful, bustling little town. Found myself a very pink place to stay for $10 and have spent my day chatting to the locals and just wandering really (and writing to a couple of folk and a muppecita back home… OK, this is an inside joke, but I figure muppecita would be the spanish diminutive for muppet which is my general purpose word for, well, I´d better be careful here, "useless idiot"… but in the nicest possible way of course). The folk here are very nice, easy to talk to and friendly. Even the old lady at the market I bought fruit from was happy to exchange a few words (my Spanish is all coming back nicely now). This afternoon I simply retreated to a funky little cafe, asked the (very sweet and chatty..) girl for tea… it took a while, she said they didn´t have any but would see what she could do… took about half an hour… I suspect she went out to buy tea especially :o)
p.s apols for poor image quality, no real editing facilities here… it´s a bit of a creaky old PC with half the characters on the keyboard worn off…