I wrote the following yesterday, I'm still in Chos Malal today… pinned down by the weather if you like, I have a gale-force northwesterly that's strong enough to blow a person over, let alone a bicycle… I'm hoping for snow too, it snowed a couple of weeks ago apparently with a 30 deg drop in temperature… it's cold today and there are some heavy, heavy clouds on the mountains just to the north of here… :-) Anyway, without further ado :
—-
Hehe, I was going to call this post "A Hundred Miles of Hell" but while it certainly felt that way yesterday, as I sit here in the shade of Chos Malal it seems a little dramatic so instead I'll just call it "Un Dia Muy Duro….".. so have a read and then think if it's worth making a donation to Shelterbox … ;-)
The stretch from Las Lajas to Chos Malal was one of those days on a bike I'll never forget, I cannot recall ever having hurt quite so much on a bicycle… it made all those European Gran Fondos and Cyclosportives seem easy by comparision – what I would have given for a few litres of ice cold sports drink and a light weight racing bike, lol.  Instead having to make do with water heated to 50 degs by the sun (my 10 litre water bag was full to begin with – I drank the lot) bread, biscuits and oranges and a bike that fully loaded weighs best part of 40kg… On its own the distance (163km) wouldn't have been a problem, but throw in a constant headwind, at times strong enough to blow me off the road into the gravel, and an afternoon heat in the high 30's… not to mention a couple of 20km plus climbs and I was grovelling by the time I rolled in Chos Malal… but of course today it is nothing more than a lasting memory & a pair of empty legs :-)
I think mentally it was as difficult as physically – just endless rocky desert, long climbs with a cruel series of false summits and straights that seemed to last for hours. There was just one spot of shade for the entire day… a lone tree at km 88 along with a couple of ruined, crumbling buildings and the appropriately burned out hulk of a car . I joined a family taking a break from driving in the shade of this tree – I will never forget their generosity in sharing a litre of ice cold grapefruit juice here. That and 20 minutes of humor was a terrific boost to my flagging morale.
Always interesting to note the motorists perspective of the road ahead, he said not to worry, it's all flat between here and Chos Malal…. haha, conveniently forgetting that final 20km of climbing that had me stopped and hanging over the bars with heat exhaustion on more than one occasion, hehe. The view from the summit though to the snow covered peaks in the north west was staggeringly beautiful. This part of the Andes is the part we flew over on approach to Santiago 3 weeks ago and I looked out the window and thought "oh that looks a bit difficult…" check it out on Google Earth some time.
The descent at 25km to go was a tonic, I'd already run out of steam 30km earlier and didn't care any longer that the wind meant I couldn't go any quicker than 20km/hr downhill.. that view was magic. The last 15km or so along the valley floor was a bit of a bugger, here I was standing out of the saddle on the flat just to keep going and at the time hating every second of it…. but had I been offered a lift I would have refused of course:-)
I finally rolled into Chos Malal at 6.37pm, 9 1/2hrs after leaving Las Lajas in the relative cool of the early morning feeling fresh and thinking "oh this won't be so bad…"…
I stopped just outside town at a little information kiosk where the chap gave me a 2 litre bottle of water with ice in it while I sweated all over his map… I wanted a room for the night rather than a tent pitch and he pointed me to the place I'm now, a rather friendly little 'residencial' where they politely ignored the crust of salt on my face and the rather amusing sunburned vertical stripes on my forehead from the vents on my helmet… the sunblock must have sweated off… :-) I would have worn my sunhat but experience says accidents are more likely when completely buggered so kept the crash hat on the whole day. I also picked up a litre of cold chocolate milk as I rolled into town, the closest thing here to a recovery drink… loads of sugars, some protein, tastes great :-)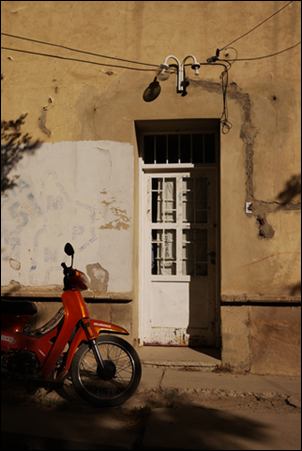 Chos Malal is a lovely, leafy oasis of a town, pop about 8000, that calls itself "Portal to the North", this is effectively the northernmost part of Patagonia… of "Valleys and Volcanoes".. This morning I had coffee with a chap from Ushuaia, right down south at the tip of Tierra del Fuego. He was suffering in the heat and was dealing with it by enjoying a few glasses of cognac along with his coffee… after a while I completely lost the thread of his decreasingly lucid conversation but so long as I nodded and said "si, si" a few times he seemed happy enough :-)
I spent the whole morning in that cafe… a breakfast of coffee, bread and "media lunas" (croissants.. half moons, geddit?) that merged into mid morning coffee that merged into a lunch of the best sandwich ever to this perpetually hungry cyclist… a 'sandwich milanesa' which in this case was a fat 12" long toasted bun with a slab of breaded, fried beef, fried eggs, cheese, lettuce and tomato inside…. trying hard not to lose weight you see :-)
The wind is near gale force again today, the metal shutters on my window are banging around as I write… seems to be a feature of the area, still, I imagine one of these days I'll have a nice tailwind all day… though maybe not as fresh as that tailwind down the mountain to Las Lajas.. that was a little excessive ;-)
So that's it for now. Walking around Chos Malal I am once again reminded how strong families are here in Argentina, and from experience everywhere else in South America, it's lovely to see all generations happy together from toddlers through teens to grandparents – all enjoying one another's company.. something the UK has become sadly degenerate in.
Right, time for an ice-cream I think and then to collect my riding gear from the lavadero where I dropped it in a crusty pile earlier today :-) Will upload this lot 'dreckly'….