I haven't got a title for this post yet, I thought of many and forgot equally as many while riding over the past few days… hopefully something will occur to me as I type…
I have a few days catching up on here to do (hope you're sitting comfortably, hehe)…. today I am in Malargüe, only a bit more than 400km south of Mendoza now which means I should arrive there and end this first leg of my journey just a bit less than a month to the day since I set out from Puerto Montt with fresh legs and clean clothes, lol. I'll have ridden approx 1900km/1200miles in that time, which I'm pretty happy with given I'm riding through mountains with hundreds of km of poor surfaces and incessant winds… ahhh yes, the winds.. more on that in a mo ;-) As I write I've just been out and bought the component parts of a cyclist-sized breakfast, the standard cafe fare of coffee and a couple of media lunas just doesn't cut it!
Before I write any more about that though I'm going to mention Shelterbox again… I was a bit disappointed to find that in the few days since I last logged on these pages had about 1000 visitors yet no-one made a donation at my Just Giving page…  I know it's a long journey and maybe you'd rather sponsor someone to do a bungee jump… and for sure many of those are repeat visits and some of you have made donations already, most warmly received I can assure you… it is very much the driving force that keeps me going when things go bad… and they did on Saturday, I can assure you of that, see below… hehe. I know many folk have political reasons not to donate which is fair enough – we all have our beliefs and opinions, things like "disaster relief is the job of governments not charities…".. in an ideal world yes but sadly we live in a far from ideal world, it takes weeks for the wheels of government bureaucracy to grind into action so in the meantime Shelterbox can respond in hours and give people who've lost everything the means they need to survive (i.e shelter, a means to purify water, a means to cook and keep warm at night and so on) until the reconstruction can start. In Haiti the tents are being used as emergency field hospitals too. I know I'm banging on about Shelterbox a lot but I feel very strongly about it – you can read why on my Just Giving page if you've not been there already… so hoping you can spare the cost of a bottle of wine or similar this week…. ;-)
So, having got that off my chest I can get back to the last few days on the road… 2 really enjoyable days, one hideous day and one just 'hard' day :-) I'm feeling good today if a little weary, after almost 11hrs kip I had a hot shower this morning so feeling like a million… well, maybe a hundred… dollars :-)
I left Chos Malal on Thursday on a perfect morning – the air was clean and still with a half moon crisply defined over the mountains in the blue sky to the west. My body was still feeling pretty dead from that Las Lajas stretch but often when it's like that the best thing to do is force it into action… didn't have a lot of choice, the road was uphill for the first 30km out of town… it was a nice climb though – a good surface, fabulous views and it meant by the time the heat of the sun really kicked in I was already almost 2000m up so the wind when it arrived was nice and cold… it was a tailwind too for a change as the road skirted north east around the bulk of the Tromen Volcano (4114m altitude). My target for the day was Buta Ranquil – just 95-ish km away, I set that mental target not wanting to stretch myself too much until I could see how my body was recovered, especially with a few solid days ahead of me.
Speaking of Buta Ranquil reminds me how much pronunciation is everything with Spanish here.. back home if someone for whom English is a second language doesn't get the pronunciation right folk usually understand or figure it out anyway… here not so. I had this up in Colombia/Ecuador too. As I was packing my bike up in Chos Malal the guy at the residencial says " Es un dia hermoso…¿Donde va?" (it's a beautiful day, where are you going?). I replied "Voy a Buta Ranquil…".. "¿Donde?" came the reply… "Buta Ranquil…"… "¿que?".. "Buta Ranquil…" "¿que?".. so I get the map out and show him… "ahhhh, Buta Ranquil!" came the reply….. lol. It seems to vary with towns and districts, I had no problems chatting with a group of Chilean motorcyclists yesterday for example yet the old geezer at the shop in Bardas Blancas just took the mickey, lol. Anyway, am getting ahead of myself – back to the road from Chos Malal…
Lots of poignant little memorials on the bends of the climb, most accompanied by some broken car/truck bits or a shattered windscreen – it gets very icy in winter. Once over the climb a most bizarre landscape opened up.. on my left the relatively normal volcano but on my right a salt lake surrounded by bare outcroppings of an almost pure white rock looking completely out of place amongst the otherwise normal, folded layers of sedimentary rock. This area, is rich in dinosaur remains and indeed the rock I sat on for lunch was full of fossils. From there it was a pretty easy, if hot, ride with just small climbs and descents through the desert to Buta Ranquil where I arrived on it's dirt streets in the middle of siesta… the place was a ghost town.. a ghost town with a feeling of desolation that not even the re-emergence of life that evening could lift. It's primarily a mining town with an appropriate sprinkling of car wrecks and disintegrating buildings overshadowed by the vast bulk of the volcano… all a bit Mad Max!
There was a small shop open with a couple of tables outside so I sorted myself out with a litre of chocolate milk for the legs, an icecream for the head and an ice cold beer for the heat before thinking about where I was going to spend the night. The resident youngster was very taken with my bike and especially my helmet… and so polite with it, always asking if he could try it on, always saying thank you and always putting it back on my bike… oh if all the kids at home could be so nice :-)
I wanted to stay close to town as I hadn't planned a wild camp so hadn't brought food for a night and a look at the map didn't indicate much in the way of water sources around. A search/asking around for somewhere to camp in the area turned up nothing better than a litter strewn patch of dust on the edge of town with a dirty stream running through it… it didn't feel right from a security point of view and the lack of clean water wasn't inspiring … luckily there was a posada on the highway at the edge of town also where I roused the owner and got a room for the night :-)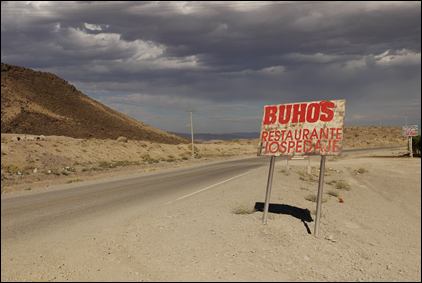 Dinner that evening was the biggest burger I ever saw… when the lady at the cafe asked me if I wanted una hamburguesa grande or poqueña I asked for the large one.. being hungry and all… it was fab, the size of a plate with a half inch thick slab of beef, 3 fried eggs, ham, cheese, lettuce and tomato… it almost beat me. Almost.
Another good day on the road on Friday. It started with coffee and toast at a cafe in Buta Ranquil.. where I had a brief emotional moment brought about by some hauntingly beautiful Andean music that reminded me of home and years ago watching The Flight of the Condor with my family… I just felt a long way from home and at the same time happy to be in my favourite mountains.
Leaving Buta Ranquil the road descended gently for a few km with the volcano behind me. After 10km I came across a perfect camping spot… a small spring in the desert surrounded by trees and a patch of grass… ho hum, que esta la vida :-) After 25km or so I arrived at the tiny pueblo of Barrancas.. in complete contrast to Buta Ranquil this was a really pretty little place backed by orange cliffs where everyone smiled and waved as I rolled in. Stopped here for coffee and breakfast number 2…
The climb of the day arrived at midday just as it was getting hot, a stiff 25km or so uphill between red and black cliffs, legs were feeling good today – that burger was definitely a good move.. About 2 thirds of the way up the climb I came to another, even tinier, pueblo – Ranquil Norte. Thinking about supplementing my supplies for the road ahead I asked around for a shop and was directed to a cottage where the friendly family had a little kiosk with the usual basic stuff. I refilled my bottles here too and asked about El Zampal, the spot marked on my map I had in mind as a good end to the day… it's on a river and I figured that as it was on the map as a village I'd be able to get some basic food there…. the girl said nope, there was no shop at El Zampal… and no there was no water and in fact there was nothing there at all… so why the heck was it on my map. Took her advice and bought some bread off another family in the village where I had a chat in a shady courtyard with a old gent while his wife went off to get me some bread.
The asphalt disappeared again right after I passed this view… photo below…
This stretch of ripio was horrible – 6 inch corrugations, rocks and sandtraps.. the only thing in it's favour was that it was downhill, lol. The girl in Ranquil Norte was right… El Zampal was justa sign that said "El Zampal" and a small bridge across the Rio Grande.. nothing else. Why the heck it's on my map is beyond me, very misleading, going to write to the publishers about that I think… and about Buta Bellón (more in a bit) that is a place with a shop and a farm yet isn't on the sodding map… and Villa Pehuenia too… lol, I'm in danger of having a rant…. back to El Zampal..
Here the track turned north to follow the Rio Grande upstream. I'd been counting on the river as a source of water for camping that night yet here it was inaccessible as it ran between black basalt cliffs. The track was hard going here too… imagine what it would be like to ride a bike across Chesil Beach and you'll get the idea… just pebbles with a liberal smattering of rocks to make life a bit harder, lol. I continued along the river getting a little concerned about the water situation, I had a litre left at El Zampal but in 30+ degs that doesn't last long. As is almost always the case though things worked out pretty well.. after 117km and almost 8hrs after leaving Buta Ranquil I came across the perfect camping spot… the river gorge opened out briefly to give easy access to the water with a couple of shady trees and a couple of gauchos/shepherds huts on the river bank.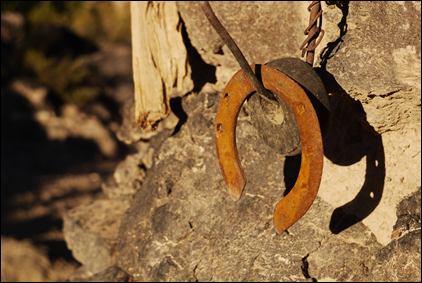 It looked like the huts were still in use and last visited within a week judging by the state of the horseshit in the brushwood corral… Ray Mears eat yer heart out :-) I decided to pitch my tent there anyway, rather than occupy a hut, and take my chances, 99.9% of folk are basically good and should the occupants show up at the least it would be an interesting experience and hopefull they'd have steak and beer…. Whiled away that evening in the shade by the river bank, cooked dinner, filtered about 8 litres of water from the silt-laden river for that night and the next day and crawled into my tent about 9pm. It was a warm night, the air gets very cold in the desert at night but the heat from the ground keeps things pretty warm. Sadly neither steak nor beer materialized that evening.
The wind raged that night… I was a bit worried about the tent, stakes wouldn't go into the rocky ground so I'd pitched it by wrapping the guylines around sticks and then weighting those down with rocks… it held and I got a few hours undisturbed kip.
The wind was still raging in the morning… howling down the river gorge from the north…. buggerance. The next 20km of ripio was slow and painful and as the morning wore on the wind got stronger until I could barely stand in it… resigned myself to a long, painfully slow day. On the bright side the landscape here was most surreal – all volcanic with the track cut out of the black basalt and on my right a field of volcanic cones… I counted 19 in full view at one point, none higher than a couple of hundred feet – incredible place, must have been quite a sight when it was going off!
The asphalt returned 50km after it ended the previous day.. it made little difference to my speed in the wind. It took me almost 10hrs to cover the 75km to Bardas Blancas… a distance I'd normally cover in 3hrs… utterly soul destroying and painful from road rash and grit/sand blasting my exposed skin. Low point of the day was managing just 6km/hr going as hard as I could and crying in frustration at the wind (around gale 8 I'd say) and my unresponsive, tired legs… it blew me right over twice, that stung a bit (hence the road rash), and blew me off the road more times than I can remember. High point of the day was meeting a lovely couple at a tiny place called Buta Bellón, not on the map…, where I took a break from the wind to eat and considered camping in his garden…. but as it was only 11am I figured I'd keep going….. stupid stupid stupid…
Made it to the village of Bardas Blancas only to find the place was pretty much dead.. the one shop was closed and with the wind as it was I was looking at a sleepless night in the tent.. luck, or rather people, as always helped me out and pair of chatty eleven yr olds pointed me to shop a km away across the river where the owner gave me a hard time about my Spanish and really didn't want to sell me anything – I eventually got some rice, a dusty can of tuna, spicy cured sausage and loaf of bread. His mates drinking beer in the corner thought all this was very funny but thought it even funnier when, as I left, shook his hand and wished him good health and good luck…;-)
Back in Bardas Blancas the family living behind the one and only posada (closed) had decided that camping tonight really wouldn't do so had found the owner of the building and got her to open up a bare room at the back where I effectively camped for the night. I sat on the doorstep cooking rice with chickens running around my feet and had a good nights kip in my sleeping bag while the wind continued to howl outside :-)
Very tired the next morning, happy to be heading north again despite the wind though as heavy stormclouds were gathering to the south and west. I met 3 Chilean motorcyclists making a tour, they said the road to Malargüe, 65km away, was very easy and I'd be there in a couple of hours… hah, have learned to take the advice of combustion engine powered travellers with a pinch of salt… I already knew better from the map anyway. The first 30km were uphill on ripio so soft it was like riding uphill on a beach, it just sucks at your wheels. With the road heading north east at first the wind was a cross-headwind which took some of the sting out of it. It wasn't quite as violent as the day before either so I managed to make reasonable progress, reaching the pass in about 3hrs.
From there the asphalt returned (hooray!) for a steep, hairpinned descent of about 10km. I had planned on a lunch stop for the remains of my bread and sausage when I came across a small, pretty cafe set back from the road. There I had a big ham and cheese sandwich with a large coffee to inject some life back into my legs while admiring their collection of fossils, and I don't mean the waitress.
Back on the flat I had a raging tailwind for an all too brief 10 minutes or so before it was back to the omnipresent headwind for the final 25km to Malargüe. The mountains on my left were sparkling in the sun while to my right a vast dust storm raged out on the pampas. Quite spectacular. Thanks to the coffee and knowing I wasn't far from a speck of civilisation this day was just hard physically, I enjoyed it really… nothing like as nasty as the day before. That day was one of those special days you need on journeys like this to remind you just how great the good days are :-) Well, that's what I tell myself though usually I'm just swearing loudly and thinking I should be going North to South.. after all that would be all downhill and with a tailwind… still, this direction was dictated largely by the seasons.. avoiding winter in Patagonia and the wet in Bolivia & Peru…
Malargüe is a nice place, most modern feeling town since San Martin, it is fundamentally a strip along the highway and forms something of a satellite town to the nearby ski resort of Las Lenas. As ever it's a friendly place… this would be a difficult journey without the smiles and waves of the locals :-) I saw a red 1979 Ford pickup truck for sale today, very artfully battered and scuffed, now that would be a stylish way to travel north… sling the gear and bike in the back and off I'd go… well, I would if Shelterbox weren't in the equation…. ;-)
That's it really. A hard but good week in which I made 530km… despite my best efforts to the contrary my already somewhat lean frame is a bit leaner… ho hum, a few days off in Mendoza will go some way towards fixing that :-) As for today, well I think I found the restaurant with the cutest waitress in town so off for some lunch…
Hasta luego!
p.s the title, I have one… 'a beautiful day'.. 'cos it is and I'm happy :-)