The place I stayed in Villa Union was pretty much just a room in a family house (mum, dad, daughter and her husband and her daughter) where I felt very welcome and equally well looked after. I shared my bit of the covered courtyard with a very vocal parrot blessed with a wicked laugh, an equally wicked inventory of whistles and a reasonable Spanish vocabulary… for a bird. I was served with breakfast each morning in a dark panelled dining room whose walls were covered with a mix of family photos, religious images and football posters. I spilled my coffee on the plastic floral table cloth this morning while admiring the enormous bunch of plastic sunflowers in the corner next to the ancient TV :-)
While in Villa Union I also made a side-trip up to the little known Reserva Natural Laguna Brava … apparently it doesn't even feature in the Lonely Planet which is a good thing IMO, it was peaceful up there… An out and back journey of almost 500km, half of it on steep dirt, from Villa Union I would loved to have gone up there on my bike… but it's a dead end – there's no road into Chile so it's not possible to make it part of a big loop so with that in mind I don't have time and sadly had to resort to a 4×4 :-(  On the other hand I'm ashamed to say I thoroughly enjoyed my comfy seat for a day off the bike and learned a lot about the geology, flora and fauna of the area :-) For riding it I reckon I'd need 5 or 6 days – 3 days minimum up – the track rises very steeply to around 4700m, and 2 days back down to Villa Union. Still, I have consoled myself with the thought that I have plenty of high altitude riding to come once north of Jujuy, and that really I'm still supposed to be taking it easy … I suppose, though that is probably the hardest part of any journey like this…!
By way of a brief description Laguna Brava is a saline lake at about 4500m altitude populated by flamingos and overshadowed by four of the biggest volcanoes on the planet, the largest is Pissis (stop sniggering at the back there…), inactive now, with a summit at 6,882m. The slopes leading to the lake are populated by wild guanacos and their more delicate,  rarer cousin the vicuña – all in full view which was magic, I had some brief, faraway glimpses of vicuña  in Peru back in '98 but nothing like today :-)
Not much point in me writing any more about the place… I'll let the pictures do the talking…. and then talk about the ride from Villa Union to Chilecito.
the road to Laguna Brava
.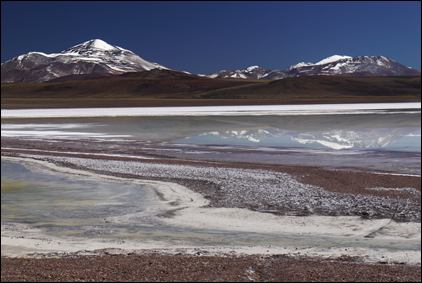 .
.
.
So as I write it's about 7.30pm and I'm in a bar in the town of Chilecito about 115km ride from Villa Union. I found it quite a hard day (7.5hrs on the road and about 6hrs actual riding) mostly because of the heat but it was a good day.. I needed a day like today to get my riding mojo back as it were.. though looking at the map the next 120km to San Blas look very dull indeed, and probably very hot :-(
The first 60km out of Villa Union were generally uphill.. gently for the first 40km or so and then steeply for the next 20km. The asphalt also ended after 40km as the road wound it's way through deep red canyons on it's way to the Cuesta Miranda. Red was very much colour of the day… the red of the surrounding rocks, the red dust all over me and my bike and the red mist that descended as the temperature soared above 40 degs C, hehe.
I stopped for a bite of lunch in a tiny pueblo of no more than 5 or 6 buildings that looked more as if they had grown out of the red soil rather than been built upon it. At the one bar in the place I bought a coke and a litre of orange juice from the aging matriarch and sat in the shade eating the bread and cheese I brought from Villa Union before refilling my bottles and topping up my water bag from a standpipe outside. It was here I pulled out my little thermometer and left it on my bike in the shade… 43 degs C, more in the sun…
With no wind to cool me the first few km of the cuesta Miranda were brutal… as I climbed higher however a welcoming wind took the edge off the heat. I think today was the hottest day of my journey so far.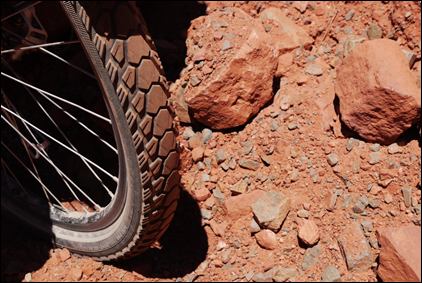 This was also giant cactus country… thousands of them 'stalking' the countryside and lining the canyon rims like Indians in an old Western movie.
from the pass a fabulous descent in beautiful surroundings took me down to the village of Nonagasta where I stopped for an icecream before joining the highway north for the final 20km to Chilecito… a not very fun 20km either.. baking hot, dead straight on a dull bit of highway and steadily uphill.. bah!
The policman at the checkpoint on the way into town was very welcoming… the dogs were not…. I also passed a big sign at the entrance to town saying "Las Malvinas sos Argentina"… so when I stopped at a shop for a drink and was asked by the folk sitting in the shade outside where I was from I said "Iceland"…
Discovered on arrival also that thanks to the red dust my legs had acquired the same orange hue as all the teenage/twenty-something girls do at home in mid-winter…. ( with their fake tanning products…)
Chilecito is a bustling little town, biggest place I've seen since Mendoza, but nothing special to look at. It looks relatively new and reminds me a lot of Latacunga in Ecuador. The following photo does it no justice at all but it's dark now so it is all you're going to get unless I am inspired on my way out of town in the morning…