I did take another photo in Chilecito… here it is – JC being uplifting behind a regular cats cradle of cabling…
The ride from Chilecito to San Blas was one of those to be endured rather than enjoyed… No doubt the scenery would be described as awesome in it's scale when looking at it from the cold side of the window of an air-conditioned car… but for cycling through I found it a toughie…
After a long, fast descent from Chilecito the road then felt like it climbed steadily for at least 90km of the 125km distance, not steeply but with enough of a grade to be frustrating, especially when combined with the fresh headwind.. For much of the day the road was just an endless ribbon of shimmering heat in the desert disappearing to the northern horizon… the mountains to the east and west weren't particularly attractive either… just brown, and the temperatures soared as the day wore on.. up into the low 40's Celcius. Which reminds me, at midnight in Chilecito I measured the temperature outside at 33.5 degs C… bit sweaty. If I said this day was like spending 7hrs on a turbo trainer in an oven then at least my cycling readership will understand a little…
Not that I'm complaining about the day of course, bicycle touring is just like this at times. I confess that at times in fact, I hated every single pedal stroke but on days like this the smallest acts of kindness and human interaction are magnified enormously in significance and the pleasure of arriving at a 'place' for the night can be immense. The road was very quiet, I saw just 6 vehicles all day – one of those turned out to be a German couple touring in a rental car.. random act of kindness number 1 for the day was these two passing me and then making a u-turn in the road ahead to come back and see if I was Ok and to give me 2 litres of ice cold water from the cooler in the trunk of their car.. oh it was sooo good, the water in my bottles and the bag on the back of my bike was probably at around 50 degs C :-)
Random act of kindness number 2 was on arrival at the first pueblo in the string of pueblos collectively known as San Blas… I stopped at a little kiosko for an ice cold bottle of coke.. the chap had no change and I had nothing smaller than a 50 peso note.. so he just gave me the coke in return for some friendly conversation. He was just about coherent but his two mates sitting in the shade outside were rolling drunk, lol. Nothing much else to do I guess on a baking hot Sunday afternoon in the middle of nowhere. I rolled away from there with a big smile on my face. I've noticed that people definitely 'look after me' more when I'm cycling alone…
After 100km of desert the final 22km through the string of villages was lovely, virtually deserted but lined with green trees and grasses, a tonic for my eyes. I passed a place to camp but I'm having real trouble with my skin in the heat and the lure of being able to have a shower at the end of the day and wash off the dust and sunscreen in the cool is too much to resist. Once I'm back up at higher altitudes the problem should go away.
As I write this bit in this particular pueblo in San Blas I've just been for a wander around the village… it didn't take long… just a couple of dusty, deserted streets and adobe buildings around a shady plaza. Not a soul to be seen, just the faint sounds of music or TV shows drifting from a few windows shuttered against the heat. I like these kind of places, they have a way of surprising you… like just now wandering back along the empty road a moped stacked with three beautiful women cruises past… inevitably I wondered who they were, where they had come from and where they were going… and was there room for a fourth person to squeeze in the middle…. ;-)
I think a fair number of cyclists head through this way, this road goes northwest to Chile over the Paso San Francisco… a popular route I think… my route from here however goes directly north .. some 300km to Santa Maria via Londres, Belén and Hualfin. It's also my birthday on the 11th March, looking at the map I suspect I'll be spending it on the ripio north east of Hualfin. Oh well, I'll be in Cafayate shortly and that I think is on the tourist trail so should be able to grab someone to share a bottle or two of wine :-) I think I'm just 500km or so, depending on route,  from Salta now :-) I need to stop there a few days… aside from resting my legs and enjoying the food and wine, the chain and cassette on my bike is heavily worn… it's only been 3000km since the start of my journey but despite best efforts to look after it the dust and grit of the ripio makes a very effective grinding paste.
The other thing I've been meaning to mention about riding here are the little roadside shrines to the Difunta Correa…. Argentina's most loved pagan saint apparently. The roadsides are dotted with shrines all surrounded by vast numbers of bottles of water – left as offerings to ask for safe journeys… most of them, to be fair, look like garbage dumps with plastic bottles piled up at random.. so I've not bothered with any photos.. on the road to San Blas though I passed one particularly artful arrangement, well artful as piles of plastic bottles in the desert can be.. so for your viewing pleasure, hehe, a photo: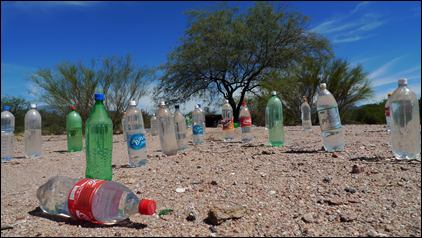 So that's it for now, no doubt I'll have more to write tomorrow from Belén but for now I can go back to watching Asterix cartoons with the kids here at the hospedaje ;-)
—-
Belén….  I must confess I got up this morning not really looking forward to the day ahead… on the map the road looked like just another stretch of hot desert highway… when I went to buy bread at the little shop in the plaza the lady behind the counter asked me where I was headed ,, when I said  Belén she sucked her teeth and said "todo cuesta arriba…" (all uphill)… I only sort of half listened because on the map  Belén is only at about 1300m altitude… I then went to buy some cheese.. the guy behind the counter asked me where I was from.. then where I was headed, sucked his teeth and said "todo cuesta arriba"… Started to have doubts about the accuracy of my map….
As it happened it was a fine ride… all that climbing the locals were thinking of happened in one steep-ish and very sweaty 10km stretch just 13km north of San Blas. Once that was out of the way it was an undulating ride along the eastern flanks of the Sierra Famatina with just a light wind and a light overcast to take the edge off the sun. The desert here was much greener than I've seen for a long time, may have been some decent rain recently… it was much easier on the eyes and I was in pretty good spirits as I cruised long the edge of the sierra. Such a change from yesterday.
At one point during the ride I was lost in some vintage Faithless on my iPod* when a heavily loaded touring motorcycle pulled up alongside… the rider was German so we rode side by side for a few moments for a conversation in Spanish (it just happened that way). It's very cool when things like that happen, two nomads half a world away from home meeting in the desert :-) Stopped for lunch in the shade of a tree soon after that and watched the crumbs from my sandwich making their way erratically across the desert floor towards a nearby ants nest.
After 85km the road arrived at the tiny pueblo of Londres, nestled in a valley below the sierra. Both Londres and  Belén have been here since the earliest arrival of the Spanish in the mid-1500's and have both strong Spanish and indigenous lineages visible in the features of the locals (the Diaguita people were here first…and the Inca also made their way here around 1480 apparently). Londres in particular is Catamarca province's oldest settlement – dating from 1558. The bottle of Sprite I enjoyed while sitting in the shady plaza however was of a much more recent vintage.  Belén, 15km further on and 100km from San Blas, is a much bigger place but still tiny – just a few blocks around a plaza. It's not a particularly pretty place but it has atmosphere, the setting is lovely  – a relatively green mountain oasis, probably a local micro-climate thing going on –  and it's a very friendly town. A good place for a rest day.The Santaderia on one side of the plaza caught my eye last night… until now I've seen the usual panaderia (bread shop), fruteria (fruit shop), ferreteria (hardware shop), zapateria (shoe shop) etc etc.. so the Santaderia was quite amusing,…. fundamentally it's a saint shop… or rather a shop specialising in religious 'stuff'.. mostly garish pictures of JC in slightly effeminate poses.. plus of course the VM.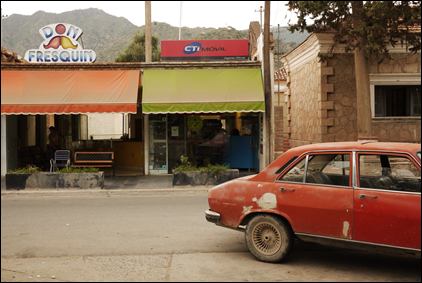 Dinner was a very good lomo and beer in a cozy flourescent-lit cafe just off the plaza… the only other patrons being a family with strong indigenous features tucking into an enormous pizza while the TV in the corner showed an extended commercial espousing the weight loss benefits of Dr Ming's Chinese Tea….
My map says the next 180km to Santa Maria are mostly ripio but I stopped by the little information kiosk at the bus station and the lady there very enthusiastically told me that it has nearly all been surfaced now… it must have been a slow day for her, once the information floodgates had opened she also excitedly told me a whole load of other stuff, some of which was completely lost on me with the speed of her articulation….  Looking ahead then towards Santa Maria I'll do a full day from here, wild camp when I run out of steam and then continue the next day … I think it may really be nearly all uphill this time as the road looks like it goes close to the 3600m contour on my map… will soon find out. Santa Maria is supposed to be a really pretty place so plan to spend some time there before riding on up to Cafayate.
p.s. The other thing worth knowing about Belén for anyone thinking of heading this way… there's a wicked little hostel on the main road through town, ruta 40, on the left just after the turn for Avda Gral Paz on the right.. the sign is too small, so keep your eyes peeled.. it's called Hostel Retama. At 30 pesos for the night with breakfast and kitchen I really couldn't be bothered to look for camping.
* I rarely ride with an iPod, my hearing is a huge part of my spatial awareness but these last couple of days in the desert the roads have been so quiet and it does make the long, desert stretches on asphalt easier, especially if it's windy….
If you enjoyed reading this and haven't done so already then please consider sponsoring me for Shelterbox, even if it is only a couple of $$. It doesn't matter what country you live in.. it's completely secure and you can use paypal too… cheers:
http://www.justgiving.com/mikesimagination