I was on the road out of San Jose before 9am on Wednesday, still feeling rough but restless enough to move on.
The morning was perfect for cycling – a high overcast keeping things cool and no wind. A chap on a battered old tractor yelled directions at me over the noise of his machine as I happily pedalled away from town through the surrounding fields.
The first 40km or so to the little mining town of Huaco were stunning as the road wound it's way through narrow red rock gorges and tiny tunnels hewn from the rock. At the turning to Huaco there was a police checkpoint… up until now the local coppers haven't been interested in me and my bike so I just cruised on by the apparently deserted checkpoint until a whistle from inside the roadside hut called me back. The copper was a nice chap and took down my details… and on his form for vehicle registration details wrote down the name of my bike…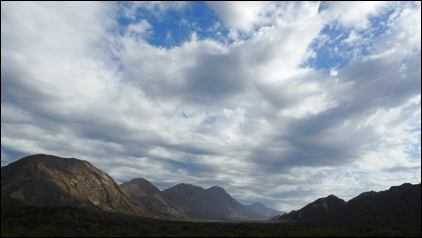 From there I cruised steadily through the desert along a mostly flat, mostly straight road to the village of Guandacol.. I was sorely tempted to keep going another 50km towards Villa Union as it was only 2pm when I arrived… but figured what with being off colour and all 110km for the day was probably enough ;-)  A few km south of Guandacol I also left San Juan Province and entered La Rioja… there was a checkpoint here too.. an inspection for fruit and vegetables in an effort to prevent the spread of pests from further south. The chap manning the post was happy to take me at my word when I told him I only had biscuits, rice and cereals on board (true) and sent me on my way with a cheery "buena suerte".
Arriving in Guandacol mid-afternoon was the usual ghost town experience with the exception of flocks of squawking parrots in the trees along the road into town. There was however a kiosko , equipped with the usual basic selection of snacks, open on one corner of the overgrown plaza where the only sign of life was a rangy looking dog burying a turd in the dry undergrowth…..
I've decided to avoid camping (and heavy duty ripio!) for a few nights in the interests of laziness… I mean  recovery – saving energy and getting as much rest as I can… there was supposed to be cheap hostal in town but with no-one around to ask I was buggered if I could find it.. there was also a hotel however, very easy to find being all new and shiny… I guess it's built to serve visitors to the mines in this area… my room had a sign on the wall saying "please do not clean your boots with the towels"… yep, probably miners ;-) I was the only guest which meant a price as cheap as a hostel with the added bonus of a swimming pool…. oh, and a sofa with a 40" wide screen TV and 900 channels of satellite including such delights as Wet Bikini Car Wash*… <ahem>. All a bit surreal in this tiny adobe pueblo :-|
From Guandacol to Villa Union was an easy ride of about 45km, I had thought I might go all the way to Chilecito, 150km, but body and mind, especially body, were mush as I rolled out of town so decided I need another short day for recovery… The road was good, climbing gently through a multicoloured landscape of rock.. sand, brown, red and black in colour. With better light this morning I had a closer look at the parrots, as vocal as ever, on the road out of town… no bright hues as in their rainforest cousins, these guys were dark & dusky in colour… very much the same as the surrounding desert.
So as I write this I'm in a cafe in Villa Union where my request for some salad has resulted in a slice of tomato being served on top of a great slab of fried chicken… also topped heavily with cheese and ham…. :-|
It's a pretty little place surrounded by rich red cliffs and a street named after an engineer.. respect at last, lol!
* subscription only… not paid :-)