The police were playing in the plaza this morning… not The Police but rather the local 'policia' band. I was there purely by chance enjoying coffee in the morning sun and watching the slower pace of life on a Saturday morning… and having been very much seeing in colour yesterday this morning I was feeling distinctly monochrome…
I chatted with some of the guys during a break and for the first time was confronted directly with the Islas Malvinas problem… but in a good natured way, what could I say but that I had no answer… however with smiles all round and a firm shake of my hand it clearly wasn't a problem between us.

Ceremonial gauchos were in town too this morning for a parade…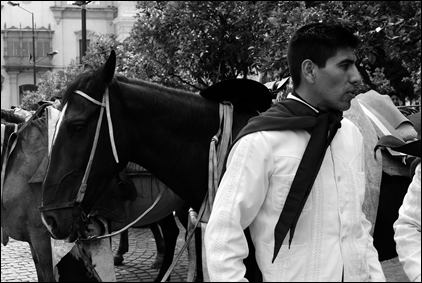 I'm in danger of enjoying this life off the bike too much.. getting up late, spending my mornings watching life go by with a long coffee.. lunch on the street somewhere before an extended siesta as preparation for evening of beer, wine and company… lol. I still have a fair way to go however and for the next few hundred km it's mostly uphill too :-|
Last night while enjoying icecream in the company of cycling friends, Mark and Steve, storm clouds rapidly gathered to the east, so as the sky darkened and the first streaks of lightening cut across the sky we took refuge in a small cafe on the corner by the Iglesia San Francisco.
Old music photos of the proprietor in his younger days covered cracks in the plaster and Bolivian TV played by the doorway. A pile of fresh empanadas and cerveza Salta arrived simultaneously with the deluge… gusts of rain-laden wind blew through the open windows as people raced by outside in search of shelter.
It's a pretty nice life.
(Must leave on Monday… must leave on Monday….)
——————————-
If you enjoyed reading this and haven't done so already then please consider sponsoring me for Shelterbox, even if it is only a couple of $. It doesn't matter what country you live in.. it's completely secure and you can use paypal too… cheers: http://www.justgiving.com/mikesimagination