Just 87km down the road from Ancud, Castro had a noticeably different character.. lacking Ancuds outgoing charm I suppose it is no more than you would expect from a renovated administrative capital. The palafitos on the waterfront are pretty but beyond that the weathered old wood and corrugated buildings have been replaced with concrete and the busy streets laid out in a basic grid lacked interest.
After another late night I felt a little weary as I pedalled out of Ancud in heavy rain and thick mist on Monday morning, the powerlines buzzing angrily in the damp above my head.  It stayed wet for the duration of the hilly ride to Castro, Chiloes green hills were shrouded in mist as I put my head down and watched the water dripping off my nose :-)
I caned it a little on this stretch I must confess, a Swiss girl I met in Ancud, she was doing her PHd research there, had met two cyclists a couple of weeks earlier heading despondently back to Puerto Montt having missed out on a boat ticket. I was somewhat interested in not finding myself in that situation so first order of business on arrival was to find the office selling boat tickets. In this respect I was slightly buggered by a messed up street numbering system. The address was #198 Calle Esmerelda.. found Calle Esmerelda by riding the wrong way up a one-way street.. found #400, then #376.. going the right way apparently.. so then I rode past #250, #248, #318, #132 and then all of a sudden #602… Gave up and went to the tourist office in the plaza, the girl in there said the address was right but it is not on Calle Esmerelda, it's sort of down a sidestreet and then on a footpath through a garden. Turned out to be in a room downstairs in what appeared to be someones house. I dripped on the carpet.
Almost Little Britain Chile… "Computador dices no" said my Chilean Carola Cerveza.. the network was down, could I come back later. Bugger. Back out into the rain.. next order of business.. food, then a bed for the night. Lunch was greasy shite, I made the mistake of going to a place called Pollos Rapidos.. but the beer was on tap rather than bottled and good. Finding a bed was easy, plenty of cheap hospedajes in town. I took a room at the first place I visited, it was fine.. in deference to that couple I met in Puerto Varas it did have a Swiss flavour, sort of a traditional chocolate box house in wood with big overhanging eaves and rather prim panelled rooms. I dripped on the carpet there too.
I ate breakfast on Tuesday sat on a dark wood upholstered chair at a dark wood table in a dark panelled dining room full of ugly ornaments. Behind me on the wall hung a plate with a picture of the Pope on it next to a free calendar from Dulcolax… I felt rubbish, I had expected, and hoped for a quiet night after a number of successive late ones but at around 10pm a Chilean couple with two young kids arrived… As is commonly the fashion, in my experience, among Latin Americans in guesthouses (and campsites) the TV was on high volume until the early hours accompanied by plenty of bangs and knocks.. but not, thankfully, that kind of bumping and grinding.. well, with two young kids in the room would you… haha.
It was raining heavily again as I left Castro, an icy cold rain on a fresh southerly wind. I hardly ever pull on full rainpants but I was glad to have them. With no rush to go anywhere far I cruised the 30km south to the pretty little fishing village of Chonchi where, as I write I have a very cheap but most excellent room in a somewhat rickety wooden building on the beach. No carpet to drip on :-)
The sun came out later in the afternoon and I sat and watched sealions and dolphins from my window. The light is very clear and crisp here, with the green hills and cold rain and wind it reminds me very much of Cornwall in April, no bad thing at all.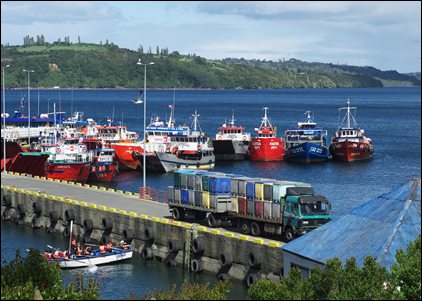 Later, while in search of food I met a very drunk couple of locals on the beach. They were quite funny.. just about managing to say 'hey gringo' before collapsing in fits of giggles.
So as I write it is Wednesday morning, it is also a public holiday and Chonchi is a ghost town. I have been caught out, I had no idea today would be a holiday, as such breakfast was limited to a packet of biscuits and a banana, lol. I am in two minds what to do with my day, my skin flared up badly again in the night so plans to visit the west coast at Cucao have been scrapped. It is pissing with rain again too. I may visit one of the islands offshore on my bike later, there is a boat every half hour from harbour a few km down the coast. Or I may not, depends how I feel, sometimes I like to be lazy, and experience has shown me that rest is the best tonic when my skin goes bad :-)
My next destination is Quellon, a place my host here in Chonchi described optimistically as a "bodies in the harbour kind of a place", hehe.  Sounds a wonderful place to be riding to the port at midnight :-)
cheero!