This afternoon I'm in a small town called Junin (pronounce 'hooneen')… reason I'm inside typing this is that it's baking hot outside… mid-30's C and the whole town, sensibly, is pretty much asleep or lounging under the trees by the river :-)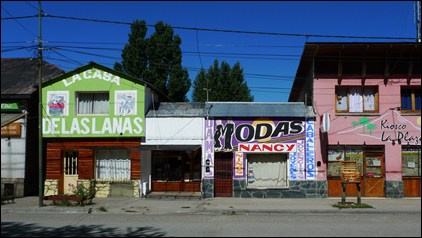 Junin
I've got a room here for the night, after 8 days straight of camping I really fancied a proper bed and shower. All my gear and clothing is properly grubby now, staying in a hosteria for the night won't change that but it is soo nice just to be able to dump my gear all over the place. And generally be untidy. I washed some of my cycling kit in the bathroom…. leaving a layer of sediment in the sink while my t-shirt (yes, the one…) and my shorts have gone to a lavadero round the corner for some heavier duty attention. They'll be dirty again by tomorrow evening but it will feel nice in the morning. The only problem I have with washing stuff here is my skin, I have to get lavaderos to use a really mild soap, or even shampoo/shower gel I buy at the supermarket.
I met a terrific couple in San Martin – Brits Phil and Catherine heading south from Salta on their bikes… aside from being excellent company for a day and evening they had lots of useful info for the road ahead.. so we swapped notes over a number of cold beers and all agreed how nice it was, being Sunday, not to have to go to work in the morning…. I also met a cyclist from Peru in San Martin.. heading south on his bike from Lima to Tierra del Fuego… I've met more cyclists here than on any of my other trips, but it always reminds me when I meet people like that there are so many interesting people around the world all doing amazing things. His bike was very well used and a bit shonky, with some problems I helped him fix, and his camping gear was very basic… it'll be hard going but I have no doubt whatsoever that he'll get to his destination :-)
As for here, north of San Martin the scenery is markedly different… the thick conifer forests have gone to be replaced by a more scrubby, parched sort of a landscape. Junin is laid out on a grid pattern and walking across the intersections you can see at the end of every street the same baked, hilly landscape. I've been for a wander round town and this afternoon it's a very sleepy place with a few semi-comatose dogs lying in gateways and a few semi-comatose people slumped in the doorways.
The road here was very pleasant, an undulating highway fractured by summer heat and winter frosts with little traffic. Though apparently it has dangerous stretches judging by the shrines on the roadside to those killed in accidents, some of them feature car parts such as an engine block or are cobbled together from corrugated steel.
The rivers around here are apparently full of trout and fishing is the main draw here for visitors… that and hiking in Parque Nacional Lanín… named after the volcano of the same name. I got my first look at it's cone from the highway into town. Debating whether to stay here tomorrow and make a side trip into the park… though I've seen a lot of volcanoes over the years and my progress over the map seems awful slow at the moment… hehe. Oh well, I guess you'll find out what I decide soon enough :-)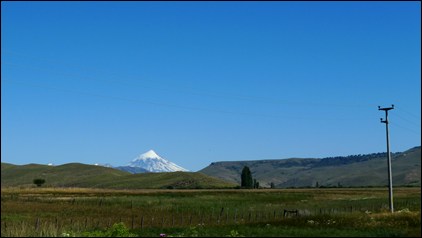 p.s lots of people here using bikes as regular transport which is nice to see, mostly single speed cruisers, rather fun… :-)