Hmmmm, I have to remember everything from the last two amazing days… Right now I'm in a cafe in a place about 200km north of Junin that doesn't even appear on my road map, supposedly the best one available for Argentina… at a cafe that doesn't have wifi not surprisingly but the coffee is superb and Annie Lennox is on the stereo so I think I'm going to be here for a few hours resting my legs and writing this. I'm not missing much, there is nothing here and the weather is very different today, after the last few days of baking heat it's cool and windy with some very odd looking cloud formations over the mountains… The name of this place is Villa Pehuenia, I'm camped about 3km outside of the village by the shores of the lake. The last two days have been largely uphill, and always with a fresh headwind, as I followed the Rio Alumine to it's source at the not surprisingly named Lago Alumine – my legs are shot today, I felt utterly dead cycling up the hill to get here this morning. It's good to take it easy for today, the eczema has been pretty bad, but it's worth it :-)
Anyway I think it's Thursday today which means I left Junin on Tuesday….
As I was set to roll out of town on another baking hot day I met an Argentinian lady who turned out to have Cornish ancestors, that was very cool… she'd retained her Cornish surname – I can't remember what it was but it was very Cornish… you know Tre-something :-) On my way out of town I filled up my fuel bottle for my stove for 2 pesos (about 30p) and bought some fresh bread for lunch. The asphalt ran out 20km north of Junin at a bridge over the river. The rest of the day was spent on very soft, very lumpy ripio.
The first 20km or so were all uphill through parched country, I stopped at one remote farm where a Mapuche couple filled my bottles for me (I'd already used the 3 litres I set out with) and it was easier than filtering from the stream. There is a very large indigenous Mapuche population here – can see it in the dark faces, although reserved so far they are all very friendly… love this place :-)
As the morning wore on the wind got fresher, the heat more intense and I shared the road with little more than the dust devils and the occasional 4×4. The scenery along this stretch was spectacular – to my left occasional glimpses of the Lanin volcano and snowcapped peaks of the Andes and to my left parched grasslands and flat-topped mesetas.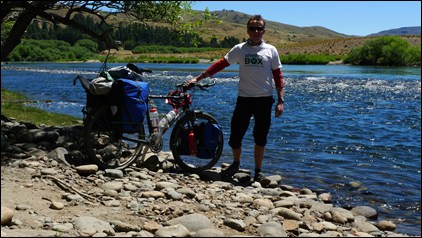 (apols for contrasty overhead sun, out of my control :-)
At about midday I rejoined the river via a twisty, difficult descent… my first view of it was wonderful, it's sapphire waters sparkling below me in the sun with the rich green of the vegetation lining it's banks. To arrive at the water and wash off the dust and salt was wonderful. I stopped an hour for a lunch of bread, honey and oranges.
From this point on the track followed the river upstream through a fabulous rocky valley – the beauty of it was right up there with the Karakoram and Srinigar Highways, some of the loveliest cycling ever with orange rock cliffs, sparkling blue waters, wild flowers and.. well, you get the idea :-) … hard going though, all uphill with that headwind and on a very soft surface.
By 4pm I was knackered and started scouting for a place to camp. Much of the river bank was inaccessible – either cliffs or fenced off land.. though gawd knows why, it was all just scrubby land. After 86km I found a place well down from the road, right by the river and hidden under thick growth.. A beautiful spot but it wouldn't have been my first choice as some flattened grasses along the river bank indicated that people did come through there occasionally… though only on foot – it was a job wrestling the loaded bike down so certainly no casual access….
I was pretty certain it was private land too – the fence was just broken so rather than pitch my tent straight away I figured I'd wait till dusk in case the landowner happened to show up… (unlikely) so instead went for a swim and stretched out on a log in the shade with a load of food.
there's a tent in there… somewhere
Somebody did show up… but not anyone to worry about, just a chap whose car had broken down on the road above.. he'd come down to cool his feet in the river while waiting for recovery… he had a long wait, lol. We had a very random conversation about wine, shared some biscuits before he climbed back up to sit with his car. I crawled into my tent about 9pm after a pasta dinner. Peace :-) I averaged just 17km/hr for the day the going was so hard – 5hrs riding and 7hrs on the bike. The heat I think made it harder than just the terrain/wind alone.
So to yesterday.. I was up at 7am.. a thick mist around the mountains raised a hope that I might have a cooler day on the road. It didn't last – I was on the road at 8.30am and the sun was already burning into the valley. I rode another 30km along the ripio, still by the river.. still beautiful before reaching a bridge at Rahue.. and asphalt once again :-)
It was a further 18km along the river to the village of Alumine where I arrived in time for an early lunch of locally bought bread, cheese, ham, peaches and jugo con leche. I sat and munched my way through my large lunch in the grassy plaza. Very low key place Alumine – just a few dirt streets with a scattering of shops. The locals, as usual, were friendly and didn't seem too surprised to see a crusty cyclist munching away on the grass.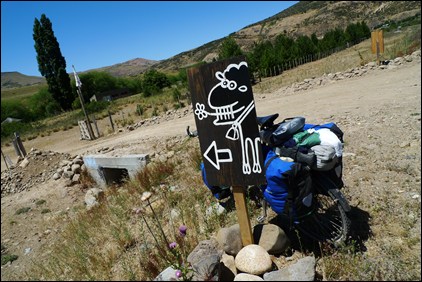 Back on the road I had about another 30km on asphalt, uphill.. and the headwind was still there… more beautiful country – wild flower meadows with the occasional clutch of beehives (the local honey is very good). Just before the asphalt turned back to ripio I passed a rather funny looking sign with "Bar" in the middle of nowhere pointing off down a track to a tin shed… I couldn't resist a look and ended up meeting a fun character who filled my bottles and sorted me out with an ice cold coke. The inside of the shed was totally at odds with the exterior – he'd fitted it out with natural timber beams, stairs, seating and floors with a bunch of colourful rugs, a small bar in the corner, lounge chairs in a rambling garden stretching down to the river and Michael Jackson on the stereo… we chatted a while – he had friends in Montreal it turned out so we talked about that, he was planning on visiting in July.. and the eternally popular topic of the weather… 35 degs in the shade today but it goes down to -20 in the winter, though is more usually around -5 to -8 degs with quite a few feet of snow.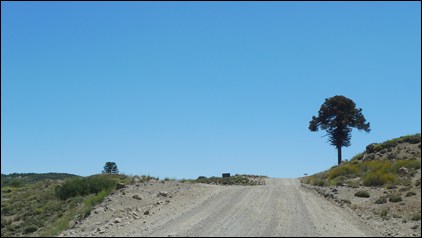 lone Monkey Puzzle tree stands sentry
The asphalt ran out at a tiny Mapuche pueblo where everyone waved as I passed by. Actually everyone here has been nothing less than friendly – always a wave from passing drivers and people by the road :-) I found this next 30km or so very hard – the road climbed steeply by the now white-water river, with sparse wooded areas of monkey puzzle trees giving the occasional shade. I stopped at another Mupuche village where I gave my bottles to a young lad who without a word ran off with them.. and returned with them full of fresh water and ice cubes :-) I wish I'd ben motivated to take photos up here but I was so tired and to be honest with the high, harsh sun no photo could ever do the place justice.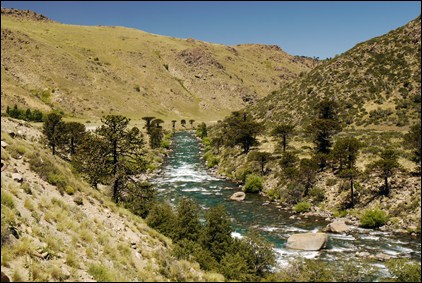 Rio Alumine
The road signs by the way here are bollocks… bit like Cornwall in a way… I'd pass a sign saying Lago Alumine 50km, then 200m further on another saying 39km and then after a km or so another saying 52km….
Lago Alumine
By the time the road leveled out on the plateau I was knackered.. the sandy road, my soft tyres, tired legs and almost galeforce wind reduced me to a crawl of no more than 11km/hr…. but despite that I was in heaven.. adventure cycling at it's finest.. the deep azure of the lake stretching away in a dusty winderness to the snow capped peaks in northwest with one of Chile's volcanoes spewing it's cloud of ash and gases on the horizon.. all too far away to photograph but I will never forget what it felt like… stupidly happy to be there :-) Another hour of crawling along and I came to a grassy, tree shaded little camping area at about 5pm where I slumped on the grass with peanuts and cold beer picked up from a tiny shop by the site :-) Only 99km for the day, hehe, 6hrs riding time at 17km/hr again…
shore of Lago Alumine
So that's it really.. an amazing couple of days of hard cycling and nothing less than awesome… not a word I like to use much, it smacks of an americanism (apols to my North American readers, hehe) but in this case it's justified I think :-) I'm at about 8000ft here I think. Interestingly tomorrow on the road to Las Lajas I will join the road from the Paso Pina de Hachado which is where I originally thought I might cross from Chile… Back then in Puerto Montt I figured it was about 400-500km up the Carretera Austral and then east across the Andes… but it's taken me best part of 900km to get here, lol :-) I think I've come the best way though, it's been so beautiful and I met some wonderful people.
this morning at my camp
Time for lunch I think and then to see if I can upload this lot somewhere. Only other plan for the day is to find a quiet spot for some upper body exercise.. I try to keep it up such I don't disappear above my legs by the time I get home ;-)
Hasta luego :-)
p.s. Please keep the Shelterbox donations coming in, 200 people a day are reading this right now yet nothing has been coming in.. it's a very worthy cause and really would you miss a fiver – the price of a couple of lattes from Starbucks…. ? Cheers!
p.p.s oh this is funny, I think V. Pehuenia will soon be on the map, in search of a connection I just rode off down a dirt track following signs to a hosteria on the lake shore… turned out to be a very posh new place, pricey… took a chance, walked in and asked if they had wifi and could I use it please? Answer was yes :-) I'm having a beer anyway just to make it less 'scroungy'.. a small price to pay, the view is fabulous :-) It's a slow connection, might need 2 beers….