… my plan to make the most of an extra hour in bed in Juli with the change to Peru-time failed miserably.. the sun was streaming in my window at 5.30am. I felt pretty rubbish despite the sunshine.. overnight eczema around my eyes swelled them right up almost to the point of closure… pretty sore and weary. I think that happened thanks to being generally shagged out and not eating enough on arrival in Juli.. it's hard up here sometimes.. altitude supresses my appetite and to be fair the food on offer wasn't that appetizing. I did supplement my dinner with a pile of peanut butter sandwiches.. the last of the peanut butter found in Oruro!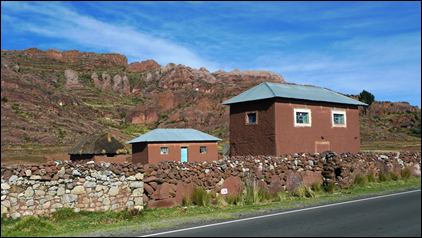 Anyway, despite the sore eyes and tired legs I was on my bike at about 8.15am… honestly I can't understand why Peru is an hour behind Bolivia… it gets light now at 5am and dark by 5.30am… rubbish! The ride to Puno was mostly flat with just a light, but very cold, cross-headwind coming off the lake. Just some climbing towards the end of the morning. Total distance for the day was 87km, my average wasn't too bad given my general state of fatigue and the altitude… 22.6km/hr so I was in Puno by midday.
I did make one stop at the busy market town of Llave just 25km from Juli. I needed to supplement my breakfast so sat in the plaza, something of a curiosity for the locals, for 20 mins with some fresh bread and fruit from street vendors. The road north from Llave was in pretty bad condition and here I was also hit hard in the face by a rock kicked up from beneath the tyres of a passing truck.. that hurt and and left me with a nosebleed. Ho hum, occupational hazard.
As for Puno, I like it here… it's a colourful place with a nice atmosphere and the people are lovely… the tourism isn't overly obvious (aside from the ranks of tour boats down at the harbour) and I haven't been hassled at all. Good food here too…. aside from the pricey restaurants aimed at visitors there are also a couple of very good chinese run joints here with very good, fresh, cheap food.. just as well, my appetite is huge today as my body catches up with itself. I may stay here another day, I want to make a visit to the Yavari.. she is the oldest ship on Titicaca – built in England in 1862, shipped in kit form to Arica, by rail to Tacna and then finally by mule to Lake Titicaca.. the journey took 6 years and she was finally launched on Christmas Day 1870.
From here I have little choice in my route to Cuzco… Juliaca, 45km north of here is by all accounts a dump, and the road from there to Ayaviri is also supposed to be pretty shitty. It's a 146km leg so I am inclined to rest here a bit more so I can get through it as quickly as possible … time is on my side now, my flight is not 'till the 15th.
I also figured I would probably go straight to Cuzco, store my camping gear there and then explore the Sacred Valley but now thinking I may detour around the Sacred Valley first… it's 1000m lower than here so I should recover better before climbing back up to Cuzco. Haven't decided yet whether I will revisit Machu Picchu… or instead will explore more of the area around.. which I did not do during my last visit to Peru. Hmmm …. anyway, pics follow, cheerio!