(cacti, a frog and a lazy cyclist…)
I'm excited this morning, I just got back my clothes from the lavadero… it's been a month since they had a proper wash… handwashing is all very well but you know all the "ground in dirt "that the soap commercials back home love to talk about… well after all the living in the dust since leaving Mendoza there was plenty of it… I'm in Cafayate by the way, a lovely town just a couple of hundred km south west of Salta and home to some truly fine wines as I am discovering, in particular the Torrontés grape that is special to the region…  It's touristy but it manages it in a civilised, even bewitching way.. and I've spent a pleasant morning nursing a coffee at a pavement cafe on the corner of the plaza, watching flat capped old men and young women alike cruising past on their singlespeed boneshaker bicycles.
Arrival yesterday was a little bit of a culture shock… after a few weeks off the tourist trail the streets here were full of the stereotypical lonely planet slaves clutching their copies of 'the bible'*… Oh dear, I seem to have my cynical hat on today, lol…. As for the stereotypes, I'd better be careful what I write in case anyone with zip-off trouser legs is reading, hehe, but yeah they come in two flavours.. the middle aged couple wearing socks with their sandals and zip-off leg trousers, mostly French it seems in this town, even the French guy I chatted with earlier over a glass of wine (yeah I know.. in the morning… shocking) doesn't know why all his compatriots are here… which I suppose by extension means that he doesn't know what he's doing here either but he was a nice guy so I can forgive him that ;-) The other flavour manages to look the same the whole world over… young, head adorned with a tea cosy hat, tattooed ankle band or a scruffy bit of string down there and muscles wasted by a diet of white bread and beer mainly because they're too mean to eat properly…. the plaza is full of them, some with the almost obligatory guitar and others weaving scruffy bits of string to sell to the poor folk who aren't yet 'cool' enough to have one on their ankle…. I haven't got one sadly, not cool enough… I have to make do with just the occasional chainring tattoo when I've been careless with my weighty bike… ;-)
The place I'm staying is great, muy tranquilo… If I'd seen their logo first I would probably have walked other way.. "run by bakpakers for bakpakers" (spelling intentional) however it is unexpectedly quiet with a nice courtyard and friendly young staff. I did have a brief moment of panic when I stepped out last night in search of food… walking down the street right towards this place was a bunch of loud, guitar-equipped English backpackers… what they were doing here I have no idea, I thought they all went to Koh Phangan. They walked right on by the entrance however and with a sigh of relief I trotted off to the market :-)
I should probably qualify however in case they are reading, hehe, that as with every rule or stereotype there are exceptions and I've met some terrific people here too, in particular an expat Irish/English chap who rode his horse all over Argentina for 2 years – a fantastic adventure worth a book I reckon, and a couple of girls from Ecuador and the US respectively who have their own interesting stories as well as being excellent company ;-)
So, the last few days… my journey from Belén didn't go quite as I had envisaged thanks to a glass of wine and a bag of fruit.. Having spent my last evening in Belén chatting to Tom, a cyclist from Bristol heading south from Ecuador, I rolled out of town along a beautiful stretch of road on the 10th loaded up with food and enough water for 1 1/2 days and a night in the desert. The early morning skies were cloudy and the weather pleasantly cool. The sun eventually came out just as the asphalt turned to ripio and the going got harder shortly before arriving at the pretty little pueblo of Hualfin with it's pink adobe church and pink adobe "mini-hospital" after 60km of riding.
A very green little oasis in the desert it was here that my day went a bit awry.. you see I stopped at the one hosteria in the place for lunch… it was beautiful single-storey adobe building in, you guessed it, pink and surrounded by artfully arranged rocks and cacti.
While waiting for my lunch I met a terrific Argentine couple, Stella & Marcelo travelling the region by car… Aside from being named like a pair of movie stars from the sixties they were great company… much food was eaten, wine was drunk – I strategically mentioned my birthday was coming up – and I was given an enormous bag of fruit.. and all of sudden it was 4pm, very hot and very windy.. it was at this point I noticed the hosteria had some rooms at the back.. rather nice ones too with views of the cacti in the garden and handwoven blankets and so on.. you can probably guess the rest, my resolve collapsed and that was it for the day :-)
So there you go I'm a dead lazy cyclist really and crap at sticking to a budget… but hey for my birthday I had an absolutely awesome sleep and even got to learn the Spanish word for frog…. a very large one magically appeared in the toilet that evening… The chap running the place just stared at me when I told him "hay una rana en el inodoro…" At first I thought my Spanish was at fault so I said it again… but it wasn't my Spanish, I think he probably thought I was making a hash of saying something completely different like "can I clean my boots with the towels..?"
The morning of the 11th, my birthday.. I had a great breakfast with birthday wishes from the staff when I let slip "hoy tengo 21 años otra vez ". My bill for such extravagance…. £18 for dinner, bed and breakfast – happy birthday me :-) I left Hualfin feeling fresh and enthusiastic under cloudy skies again which was nice as the first 30km of the day were really quite hard work.. hilly ripio alternately super soft sandy stuff or thick, gloopy mud.. neither type is very quick, I only managed 10km/hr average.
The mud was mostly confined to km 20-30.. lots of road improvement going on though to be honest I couldn't see much improvement despite lots of activity and the constant spraying of the road with water which just turns it to thick clay.
I think I may have attacked that section just a little too enthusiastically, the road was all uphill for the first 80km or so and after 2 hours I really started to die horribly… lol. I made a few stops to get some more sugar in me but any effect that had was negated by the arrival on the scene of a vicious headwind on the exposed road… :-( In the end it took me 8hrs to cover the 115km to Santa Maria.
I stopped for a big tub of icecream in San Jose Norte, a pueblo about 20km or so south…
sat on the pavement for a while chatting to the lad running the heladeria.. told him it was my birthday too but I still had to pay for the icecream… it did however sort my legs and tired head out and I steamed the rest of the way to Santa Maria, a pretty little place, where I pitched my tent just outside town forgetting previous lessons learned about camping in/by villages..didn't sleep a wink that night… dogs fighting, music 'till 4am and so on.
By rights I should have been grovelling on my bike as I left town the next morning.. but I wasn't, I had great legs:-) Not sure if I had actually recovered really well from the previous day of riding or whether it was just the pint of coffee I brewed myself at first light.
Everyone I spoke to in Santa Maria told me I should take the asphalt, albeit 20km further, road via Amaicha del Valle… but I decided I'd rather take the ripio back road, which just happens to be Ruta Nacional 40, which pretty much goes direct to the ruins at Quilmes. The first 15km or so were ace, a broken but hard surface winding it's way through scruffy, sorry – picturesque, little pueblos at the foot of the mountains.
The next 15km were still ace but a very very soft, sandy surface that slowed me right down to a crawl, spent much of this section in my granny ring just to keep moving
It was on this stretch that I met the spitting image of Vin Diesel/Xander Cage (xXx) albeit with a spanish flavour… this heavily tattooed chap with shaved head pulled alongside on one of those motorcycles designed to be especially noisy, girl on the back, and yelled something across to me .. we tried to talk but his machine was too noisy and I was concentrating on keeping going in the sand. Our brief conversation finished with a shouted "adios Inglés" from him as he revved his machine and disappeared in a cloud of dust… but not the last I was to see of him.
I'm not really a ruins person but the 10km up and back detour to the extensive pre-Colombian ruins of Quilmes, about 60km south of Cafayate was worth the effort if only to see the enormous cacti standing sentry amongst the stone walls.
The place was a Diaguita fortified town that resisted the Inca but couldn't resist the Spanish, they were all deported to a neighbourhood of what is now Buenos Aires.. Recently, much to the disgust of the remaining descendants of Diaguita the site was sold to a private businessman who opened a hotel and cafe right next to the ruins.. By the time of my visit however the native people seem to have claimed the site back and the hotel has been closed down – all good news. There is some history here if interested: http://en.wikipedia.org/wiki/Quilmes_(tribe)
Having wandered around the site with walls that looked as if they could have come straight from England's Peak District.. and cacti that couldn't… I was munching on a cold milanesa (fried meat, fried egg and cheese) sandwich bought from a man under a tree when Vin Diesel showed up again.. His motorcycle wouldn't start and his girl was standing by in the shade of a tree waiting for it to come to life. I sauntered over and said "¿quieres mi bicicleta?".. his girlfriend laughed and he just looked at me with a bemused expression for a moment before it finally burst into life with a particularly loud roar. "Hermosa!!" (beautiful) he shouted over the din. I'd let my tyres down for a fast, rocky descent back to the main road so we took off together and headed back down the mountain at around 50km/hr until the track levelled off and he disappeared for the second time with an "adios Inglés" into a cloud of dust… good fun.
From there it was a lovely rolling ride through surprisingly lush countryside to Cafayate and it's surrounding vineyards. As I sit here it's just about lunch time… I have a pile of fresh bread, cold meat, salad and fruit from the market… I don't really feel like a proper adventurer now with such luxury… I've not lost much weight and despite having a diet that seems to consist mostly of fat it ain't from having to chew on dead seals or penguins like the intrepid explorers of old.. Not many seals or penguins hereabouts anyway and I don't think there's much fat on a llama either, years ago in Peru I ate some alpaca cooked in the ground with hot stones and I don't recall much by way of grease… just very tasty, very lean meat :-)
So, that's it for now.. I need to go and wash the fly of my tent, 2 months of dust and grit can get quite destructive if left in the fabric to slowly grind away at the fibres.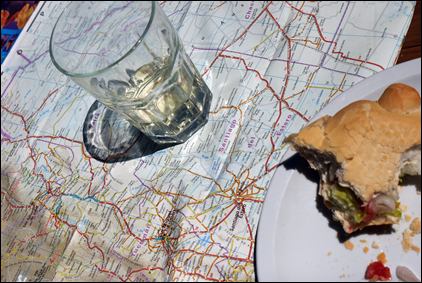 * as for Lonely Planet – like all guide books it is a useful reference but in this case my own opinion – and it just that, an opinion, is that it has too much power… it's very opinionated and has the power to destroy a business and even entire villages… frequently I've arrived at a place that the 'planet' recommended avoiding and having a wonderful time… so, use it as a reference but don't be a slave to it is my rule, get out and enjoy the places in between.
——————————-
If you enjoyed reading this and haven't done so already then please consider sponsoring me for Shelterbox, even if it is only a couple of $. It doesn't matter what country you live in.. it's completely secure and you can use paypal too… cheers: http://www.justgiving.com/mikesimagination