as I sit here in San Salvador de Jujuy I have a free wifi connection so may as well write something I think… it was a lovely ride up from Salta, a very mellow 100km/4 1/2hrs through what can only be described as a very green and pleasant land… a massive contrast to the desert just a few days ride south. This morning as I left Salta under cloudy skies in a relatively cool 25 degs C or so I reminisced about thundery spring days riding in the western Pyrenees… with the terrain, the weather, the landscape and the smell of cowshit in the fields I could easily have been half a world away there in France.
Once clear of Salta.. once past the giant 20ft metal armadillo in fact, ruta 9 north turned into a little country lane, with only the occasional vehicle but a perfect surface. It wound it's way slowly through the mountains climbing gently for 30km and about 1400m vertically or so into a rich cloud forest before descending once again into the province of Jujuy… the last, or first depending on direction of travel, province in Argentina.
With the easy riding I made good time despite empty legs… I always feel rubbish after a few days off, my body goes to sleep, the adrenalin drains away and all that's left is a residual fatigue from the last few thousand km. Tomorrow I should be back to normal :-) Lunch in the village of El Carmen just 25km or so south of San Salvador de Jujuy was a sandwich and bottle of fizz from a corner shop. I measured 28 degs C when I stopped, an unbelievable 15 degs C cooler than it was at a similar lunch stop and similar altitude a few days south near Chilecito, at the foot of the Cuesta Miranda :-)
Here in Jujuy today there is a memorial event/demonstration happening in the Plaza… March 24th 1976 was a dark day in Argentina's history… I know today is the 22nd so I'm assuming today is either a designated memorial day or the whole week.. On that date a military junta seized power and more than 30,000 people were subsequently 'disappeared' in the ensuing 8 years. Officially the period was known as the 'National Re-Organisation' .. . congress was closed, political parties banned, freedom of press and freedom of speech abolished. Described by those in power as a war against terrorism and communism the reality was that the military government persecuted, tortured, and killed those who opposed or questioned the dictatorship, expressed leftist views, or simply appeared in the address books of people considered subversive…
Poignant photographs of those disappeared adorn the pavements and the banners & flyers all bear the simple slogan "nunca mas".. never again.  The images of Che Guevara and Túpac Amaru are also evident, symbolic of freedom as they are.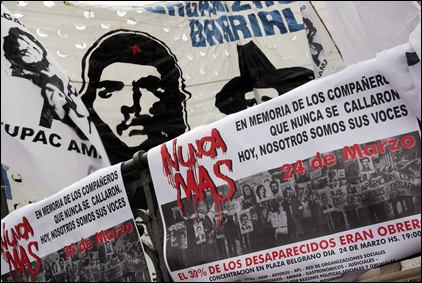 As for the armadillo, well not to make light of today's events in the plaza but he was fab, a great metal beast standing sentry at Salta's northern limit….
Postscript… 23rd March: delayed in Jujuy a day extra with a sore throat and muscle aches. humpf… Last night I was lucky enough to meet two American girls on bikes, Kate & Malena for an evening out. I'm stopped at a hostel in the town centre, it's OK but suffers the usual lottery of 'rooming companions'.. I lost out last night with the arrival of two early-twenty-something backpackers who were trying painfully hard to be very cool – something that anyone older than that will know is virtually impossible to achieve at that age :-) I came back from dinner relatively early at 11pm to find the room sealed up tighter than a…. ah no I can't say that… well anyway, I opened the door to be confronted with a blast of heat and cheap aftershave… eeeugh! I opened the windows wide to some muttered protests from the darkness…. but the night air was perfectly cool .. and breathable. Suffered also from the hostel ghost…. a character that walked in out of the room all night switching lights on and off and rustling plastic bags in a ghostly fashion…. some people need a smack… Oh, and the source of my lurgy has just been revealed by one of my room companions, it's French… :-|