I arrived in Colombia this morning, my plans to arrive yesterday afternoon were scuppered by torrential rain… having left Quito in the rain, sat for 5 and half hours on a bus in the pouring rain (though the sun did come out briefly in the beautiful Chota Valley) I really could not be bothered to ride to the border, faff about there and then ride on to Ipiales…. was a good move I think, the 3 or 4 km from the bus station in Tulcan on flooded streets more akin to rivers was miserable enough, luckily the girl at the place I found to stay ($8) only laughed when I dripped water all over the floor, the counter and the registration book….! With no parking for the bike downstairs it had to go in my room… this was no mean feat as the room really wasn't very big… but it did have a closet with a lift out shelf (though I am not sure if it was supposed to lift out…) so the bike drip-dried in there….
I had a bit of a downer day yesterday in Tulcan I must admit. Nothing nice happened all day, mainly becuase I wasn't riding my bike… it was just a case of get to Quito bus station, sit on a bus for hours, get thoroughly bored and tired and then find a place to stay in the rain. The day didn't start brilliantly, really had to stay awake in the Quito terminal…. was sized up up by a variety of brazen, thieving bastards while waiting for the bus to leave, though thankfully I didn't have to run the gauntlet of the inside of the bus terminal having flagged down a bus on the road outside just arriving in the terminal with "Tulcan" in the window. Tulcan looked a pretty grim place, even without the rain I doubt it would have much going for it and like the locals I wouldn't have been smiling either I think if I lived there…. was happy to go to bed last night and put that day behind me.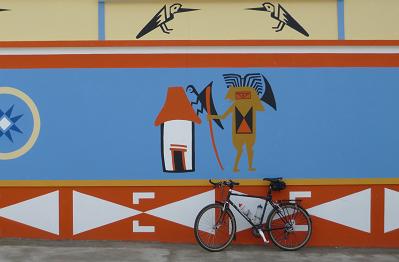 This morning then… I saddled up and rode to the border about 8km away in a "light English drizzle"…. (there is something very cool about crossing international borders ona bicycle I think) The border crossing itself is a bridge, I was a little surprised there is no barrier or forced direction to Ecuadorean immigration to get an exit visa, I could easily have not bothered but would only cause a lot of unpleasant problems later if I ever come back I suspect… (so if you are reading this and planning your own trip… before you cross the bridge head into the yellow building on the left and get your exit stamp, won't take long). Colombian immigration took about an hour to get through, mainly becuase I think they were on coffee break judging by the complete absence of any officials. Was dead easy getting in, the chap looked at me and my bike, said I looked like a really nice guy* and could stay a couple of months and stamped my passport accordingly.
*actually he didn't say that but he was thinking it, I could tell…
So that was it, now in hot sunshine I pedalled my way into Colombia and on to Ipiales… which is where I am now. I have treated myself tonight, there are plenty of the usual dives around to stay in but being something of a trading town there is one nice place to stay… nice enough to have a Mastercard sticker on the door that actually means something… … I'm feeling very extravagant at $30 for the night (but it does include brekkie) but I have a lovely room on the top floor with wicked views of the area (which is beautiful by the way, more in a mo…). My bike is locked in the broom cupboard by reception!
Now, I have seen words in the Lonely Planet that basically says Ipiales is a uninispiring dump. This is bollocks, it is a typically friendly, bustling, colourful little town that it is easy to feel at home in, and it has some great bread (better than Ecuador). I like the fact there is no sign of tourism whatsoever, in a way it feels like Laos 11 years ago when it was still a largely closed country… a visitor is unusual but the people are so polite so leave you completely alone unless you engage them first in which case they have, so far, been invariably friendly and ready to talk.
This afternoon I cycled out into the countryside nearby to the completely bonkers Santuario de las Lajas (this is a cathedral built into the side of a river gorge, took 43 years to build from 1916…), my snaps can't do it justice, it's just mad. Very beautiful, the walls (both stone and raw cliff face) are covered with plaques and so on.
The village there is pretty too, very peaceful, I sat there having tea with a local lady who was so friendly, felt completely at home. The countryside around here is stunningly beautiful, I am looking forward to my ride to Pasto tomorrow.
Oh yes, made my first faux pas for Colombia today, I stopped on the outskirts of Ipiales to take some photos and got talking to a chap about riding in Ecuador…. he asked me if I liked Quito so of course I said "no, not really…" without thinking a chap from Quito could be out here on the quiet outskirts of Ipiales…. but he looked at me a bit funny so I asked and he said "yes, he was from Quito…" Oops! I think I recovered the situation somewhat by explaining that it was the many tourists there I didn't really like… it must have worked to a degree 'cos he still shook my hand as I got back on my bike…..
Only problem so far… getting used to a new currency. Colombia is one of those countries where the basic unit of currency, the Peso in this case, will buy you less than half of bugger all… 3 digits, sometimes 4, are needed just to buy a coffee….
Anyway, I'm off in search of food. Again. Perhaps a 5 digit pizza or something….
Adios!